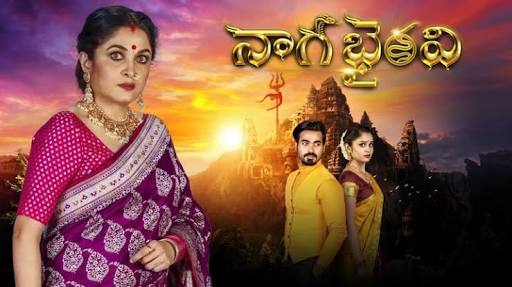 Naga Bhairavi 14th June 2021 Written Update on TellyExpress.com
Episode starts with Bhairavi says Arjun didn't do any mistake and he stoled that Mani to save his Mom's life. Arjun says Shivudu might never help me if I did wrong. Bhairavi says Shivudu asked us to do this ceremony so nothing goes wrong. Aditya says I agreed to this because of Shivudu word's so everything happen in good way. Annapurna says she trusts Shivudu and asks them to perform the ceremony. Aditya teases her. Annapurna calls Kaushalya and asks her to make Bhairavi ready for the ceremony. Kaushalya takes Bhairavi to the room and gets her ready. Veerabhadram looks angry. Arjun feels happy while getting ready. Veerabhadram sees Arjun and thinks Nagamma will definitely kill Arjun according to her oath, wish she kills him before their first night.
Nagini cries seeing Phanidra and tells him how her blessing to Bhairavi stopped her to kill Arjun but now I realised that our life is more important to me than my blessings because of gurudeva so I won't leave Arjun anymore and noone can save him from me and she senses Arjun and Bhairavi going to have their first night with her power than she thinks they are arranging this first night thinking I can't do anything if their bond get strengthen but they don't know that I won't let this first night happen and she decides to kill Arjun to save her Phanidra and leaves to kill Arjun after telling it to Phanidra.
Arjun thinks about Nagamma oath to kill him and he worriedly thinks Bhairavi life may get spoiled if Nagamma takes her revenge by killing him. Bhairavi comes to him and asks why he sits alone in the outside. Arjun tells her nothing but Bhairavi insists him to tell what's he thinking. Arjun says you know that I get that Mani to save my Mom and I don't know why Nagamma felt wrong about it and she took oath to kill me so I feel it's not good to do this first night. Bhairavi says Shivudu told us, that's why we arranged this ceremony and he is the one who saved us from Maya so believe his words and I can't see you in this way so let's face the problems together, she makes Arjun wear the Anthill mud given by Shivudu and tells him that It will protect them. Arjun holds her hand and tells her that lets live this day with 100 years happiness. Bhairavi hugs him telling she wishes the same and even one second Life as his wife is enough to her. Arjun comforts her.
Nagini reaches to Arjun and Bhairavi's place and tries to bite Arjun but she couldn't because of Anthill soil and she thinks nothing can stop her to save her Phanidra and thinks who's trying to stop her from killing Arjun. Kaushalya notices Arjun and Bhairavi's hugging position and she alerts them by telling it won't good if anyone saw them and calls them to inside saying Annapurna is calling them. Nagini hides from them and thinks to inject her venom on Arjun's body. Annapurna takes them to Pooja room. Arjun and Bhairavi performs Pooja to Lord Shiva.
Episode ends.