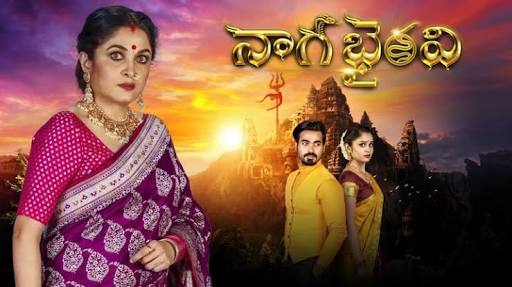 Naga Bhairavi 15th July 2021 Written Update on TellyExpress.com
The episode starts with Jalaja says dangers are happening whenever we are witnessing the inauspicious things at home, won't you guys understand it? Plus witnessing skin of snake at home is very inauspicious and it's sign of big danger so stop your first night plans Bhairavi, I'm telling it for your goodness. Bhairavi says I know that you're creating unnecessary scene because you don't want our marriage bond to get strengthen and those inauspicious things are auspicious that's why Nagamma failed to harm my husband. Jalaja says they are not understanding her intentions. Veerabhadram shouts at Jalaja to stop it and he asks Bhairavi to not take Jalaja words seriously and he asks Aditya to arrange first night.
In room Veerabhadram asks why can't she stay silent Infront of family. Jalaja says she can't sit silently when things are going against them and she asks her husband why he scolded her without giving his support. Veerabhadram says he did it to manage the situation and don't forget that they don't have good opinion on us and they may throw us out if we talk against them so understand this point and Nagamma will stop their first so stay cool. Jalaja says this time Bhairavi is confident so she might planned something. Veerabhadram says Nagamma will definitely fail Bhairavi plans.
Bhairavi prays to Lordshiva and asks him to help her to save her Arjun from Nagamma and she thinks to sprinkles Aksintalu. Shakuntala shares her worry with her Mom. Annapurna assures her everything will be fine. Aditya asks Kaushalya to bring Bhairavi. Kaushalya sees Bhairavi coming out from Pooja room with plate and she asks where is she going. Bhairavi asks her to wait than she sprinkles holy rice near their room entrance. Veerabhadram thinks nothing can stop Nagamma. Shakuntala prays god for Bhairavi and Arjun's happiness. Bhairavi keeps the plate in Pooja room. Arjun asks Shakuntala why she looks worried. Shakuntala says you don't know how much I'm worried as a mother, seeing you guys Infront of my eyes is enough for me even though your first night won't happen but I can't bear of something happens to you guys. Bhairavi joins them.
Shakuntala basks Bhairavi to rethink their decision and tells her that she is scared thinking what Nagamma will do to them. Bhairavi says don't get worried, Nagamma can't stop us this time. Aditya says he trust his sister and he asks them to take Shakuntala's blessing. Bhairavi says noone can separate her and Arjun and she asks Shakuntala to don't get scared. Aditya asks Kaushalya to send Bhairavi and Arjun to room. Kaushalya takes them to room. Veerabhadram thinks it's interesting to see who will die.
Nagini senses something is wrong going to happen than she gets to know Bhairavi and Arjun first night plan with her power and she thinks that this time she won't leave them until she teach lesson to them.
Aditya scolds Bujji for overusing mobile and he asks Kaushalya to take Bujji to room. Bujji gets scared seeing snake and shouts loudly which alerts everyone. Everyone request Nagamma to leave Arjun and Bhairavi. Nagamma tells them she won't leave Arjun until she kills him. Aditya begs Nagamma to leave her sister and Arjun it Nagamma denies his request and goes towards Bhairavi and Arjun's room. Holy rice throwad Nagamma away from room premises. Everyone looks shocked. Nagamma realises Bhairavi throws the holy rice and turmeric from Shrichakra near room and she tells to everyone that she will show them what she can do and leaves from that place.
Episode ends.