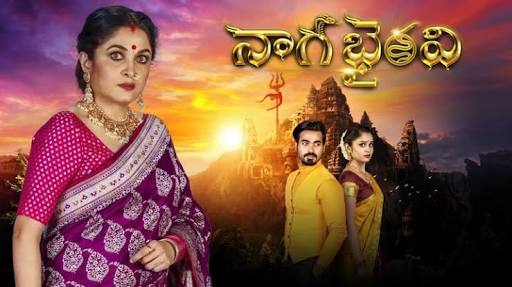 Naga Bhairavi 16th July 2021 Written Update on TellyExpress.com
Episode starts with Nagamma says Bhairavi used her over intelligence and sprinkled the holy rice near door steps to stop me but I will show you guys what I can do and she goes outside. Everyone looks confused. Nagamma increases her size and breaks the roof of Arjun and Bhairavi's room and enters inside. Family members gets shocked. Nagamma searches everywhere and notices Arjun and Bhairavi are not present in the house than she goes to family members and questions where they hided Bhairavi and Arjun. Jalaja and Annapurna says they are inside the room. Nagamma says they are not inside the room. Kaushalya says she is the one who send them to room.
Nagamma says I realised that you guys arranging their first night so tell me where they went otherwise you guys have to face the consequences. Aditya gets tensed but tells to Nagamma that they didn't know anything and asks her to believe them. Shakuntala and Kaushalya asks Nagamma to leave Bhairavi and Arjun. Nagamma threatens them and notices everyone's reactions than she says everyone's is getting scared but you're looking guilty and she asks Aditya to reveal the truth. Aditya tells her he don't know anything and he begs Nagamma to leave Bhairavi and Arjun. Nagamma insists him to reveal it saying she knows that he knows their location. Aditya says I know their location but I won't reveal it even though you will kill me. Nagamma says she knows how to get truth from him and she captivates Bujji with her tail. Bujji shouts to save him. Everyone gets scared and requests Nagamma to leave their Bujji.
Bujji gets terrified and he asks his Dad to save him. Jalaja asks Aditya to tell the truth. Kaushalya request her husband to save their son. Aditya tells to Nagamma that Arjun and Bhairavi are in Garuda gutta and he request her to leave their son. Kaushalya asks Nagamma to leave her son. Nagamma leaves Bujji and goes from that place. Kaushalya hugs Bujji in tears. Family members gets worried for Bhairavi and Arjun safety.
Arjun gets lost in his thoughts. Bhairavi asks what's he thinking. Arjun asks why they came to this place without informing to their family. Bhairavi says noone will distrub us here that's why I bought you to this place. Arjun asks her what's this place. Bhairavi says this is Garuda gutta where snakes can't enter that's why I bought you here because Nagamma can't enter this place. Arjun asks how she knows about this matter. Bhairavi tells him how she got to know it from her Brothers diary and I didn't revealed to you thinking everyone will find it and noone knows our location except my brother and others will think we are in room and Nagamma can't enter our room because of Bandanam so let's don't think about anyone and enjoys this night. Arjun agrees and they goes inside and Arjun still lost in thoughts. Bhairavi tells him she planned it to respect Shivudu words and we have to strengthen our marrital bond. Arjun agrees and they lost in eachother eyes and Arjun slowly kisses her hand and both shares blissful moments. Nagamma goes towards Garuda Gutta.
Episode ends.