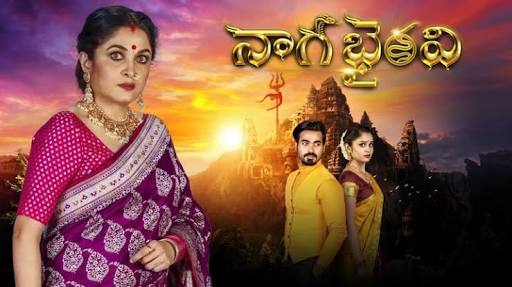 Naga Bhairavi 16th June 2021 Written Update on TellyExpress.com
Episode starts with Veerabhadram tells to Sanvi that he will get Bhairavi married to his son once her brother dies because of Nagamma and i will become chief of village. Sanvi about to leave but stops seeing Aditya. Veerabhadram too feels tensed. Aditya comes to them and asks which position he is talking about. Veerabhadram manages him telling something. Aditya says you guys don't know eachother properly than why you're discussing things, did you guys know eachother from before itself. Sanvi tells him Veerabhadram is discussing with her even though she is not interested. Aditya sends Sanvi to inside and leaves from that place. Veerabhadram feels relaxed and thinks why Nagamma is not yet killed Arjun.
Arjun waits for Bhairavi in their first room. Nagini enters to that room through window and she tries to bite him but couldn't because of the Anthill soil on his face and Nagamma thinks he won't get escaped from her and thinks other ways to kill Arjun. Aditya comes to Arjun room and asks why he didn't have food. Arjun tells him he is not hungry but Aditya rushes out telling he will send fruits. Bujji brings fruits to Arjun and he have the half apple than he goes to washroom. Nagini poisons Apple piece with her venom.
Arjun comesout from washroom and about to have the poisoned Apple piece but Kaushalya stops him and asks him to taste the payasam prepared by her. Arjun enjoys the payasam. Kaushalya arranges fruits and flowers in first night room. Arjun tells to Kaushalya that payasam is awesome. Kaushalya notices blackness in the Apple piece and questions why he ate the spoiled piece. Arjun tells her it's fine when he tastes it. Kaushalya scolds him for eating it and throws those pieces outside and leaves from the room. Nagini comes out from Apple piece.
Shakuntala asks what's the time. Sharath tells her 9.55pm. Shakuntala tells to Annapurna that Muhurta is nearing. Annapurna calls Kaushalya and asks her to send Bhairavi to room giving her milk. Nagini goes to kitchen and spills her venom in milk. Kaushalya sends Bhairavi to room by giving that milk. Nagini thinks Arjun will die after drinking that milk and she enters to their room to see what's happening. Bhairavi gives milk to Arjun and she feels shy Infront of him. Arjun asks why she is feeling shy Infront of him. Bhairavi tells him she don't know. Arjun tells her she is live form of his dreams and he makes her sit in the bed and asks her to taste the milk before him.
Episode ends.