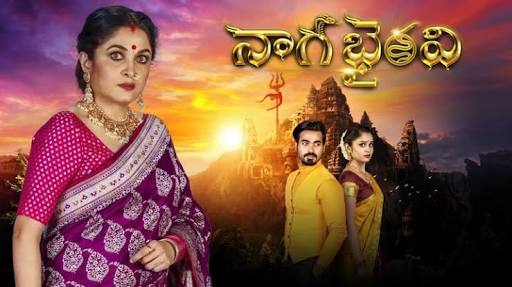 Naga Bhairavi 24th May 2021 Written Update on TellyExpress.com
Episode starts with Annapurna asks Who's she. Maya says my name is Maya and I came here to help you because I know your problem. Kaushalya says we don't know you than why you're helping us. Maya says relationships are not needed to reduce the pain and she consoles Annapurna telling she will save Arjun's life and asks them to believe her. Annapurna asks how can she cure Arjun when Doctor can't do it. Aditya says thanks for your concern but Doctor told us that situation goes out of hand. Maya says Doctor is human and you believed him than why can't you believe my words? We have to do anything to fulfill our wishes and I will save your Grandson life risking my life so trust me otherwise I will leave from here.
Annapurna tells to Aditya that she trusts Maya's words. Aditya and Kaushalya to agrees with Annapurna and they says they are thankful to her for lifetime if she saves their Arjun life. Maya says I don't need your praises or gifts for this help but you have to promise me that you will fulfill my wish after saving Arjun's life. Everyone stays silent. Maya asks why they are silent. Annapurna says they are ready to do anything like she said and They promises to Maya. Maya happily thinks theses people promised me Arjun and noone can stop me to get you than she gets to know what happened through Arjun with her powers and she tells them that she will treat Arjun with herbs and goes out to get something.
Veerabhadram men thinks who's she. Maya return with some herbs and she asks family members to wait outside. Family members and Veerabhadram men goes out of Arjun's room. Once they left, Maya throws the herbs and she starts praising Arjun qualities and tells him how she is trying to get him since last 7 births and finally I got opportunity to get you in this birth so I won't let you die and will ready to save you by fighting with death also and she changes to Snake form and removes poison from Arjun's body.
Veerabhadram men thinks it's not easy to save Arjun life and he goes to see how Maya is treating Arjun but he gets shocked seeing she is snake and losts his conscious. Maya tells to unconscious Arjun that she saved him from the danger than she goes to doll and asks Bhairavi are you happy seeing I saved your Bava life or are you feeling surprised? And I saved him to get him. Bhairavi asks what she means. Maya says I'm going to marry your Arjun, hope you understand it. Bhairavi asks who's she to marry her Bava.
Maya says I love him that's why going to marry him. Bhairavi says she is doing wrong. Maya says I know you might create drama that's why I changed you like doll. Bhairavi request her to change her like human. Maya denies saying she won't do it until she gets Arjun. Bhairavi says she can't live with out Arjun. Maya says die, their is no problem to me. Bhairavi tells her she will marry Arjun by breaking her traps.
Episode ends.