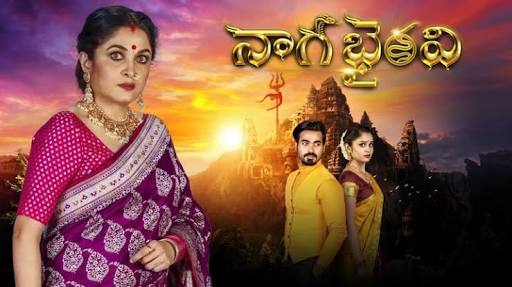 Naga Bhairavi 26th May 2021 Written Update on TellyExpress.com
Episode starts with Maya questions how they will marry Arjun to Bhairavi if she didn't save Arjun's life? I saved his life so I have all rights on him plus you promised to fulfill my wish so you guys have to get me married to Arjun. Annapurna says you came to help us when we are in trouble and your heart is good than why you want to have Arjun who's belongs to Bhairavi. Maya says i love Arjun and want to have him as my partner that's why saved him and took promise from you so don't break your promise otherwise I will kill you guys. Aditya says your threatening won't work on us and Arjun will get married to Bhairavi so leave from here.
Maya says he can't make Bhairavi gets married to Arjun because she kidnapped his sister. Aditya raises his hand at Maya but Kaushalya stops him and asks Maya to tell them about Bhairavi. Annapurna request Maya to leave their Bhairavi. Maya tells them she will leave Bhairavi after her Marriage with Arjun and asks them to make arrangements for her Marriage with Arjun and tells them that they can't leave from farm house until she returns and she leaves after creating power circle. Peddireddy tries to go out but that power circle won't allow him to go out. Annapurna and Kaushalya prays Nagamma to save them.
Nagaguruvu thinks why he is unable to see what happened to Nagini and one who captivated Nagini might be powerful than us and otherside NagRaj and NagRani are already in pain and they are busy with Siva aradana so it won't good to tell them that Nagini got Kidnapped than how to save Nagini and he feels bad for his helpless situation.
Doll who's Bhairavi wishes for Arjun to gain his conscious. Arjun gains his conscious. Family members feels happy. Bhairavi asks Arjun to see towards her. Arjun asks how he reached to new place. Aditya tells him how he lost his conscious because of venom of snake. Arjun thinks when snake bitten him than he realises someone intentionally made him get affected with poison. Kaushalya says Doctor told us that they can't save your life. Annapurna says some girl saved your life. Arjun asks where is Bhairavi. Kaushalya about to tell him but Aditya stops her and tells him that Bhairavi is at home.
Arjun says let's go to home. Annapurna says they can't leave from here and tells him about Maya demand and how she locked them in this farmhouse. Arjun asks who's she to marry me and how can she threaten us. Kaushalya says they don't know who's she. Arjun says seems like someone is doing it intentionally and he tries to go out but couldn't because if the power circle (chakra Bandam) created by Maya. Arjun says so that girl is not normal one. Aditya says true plus our Bhairavi is in her clutches. Arjun thinks for Bhairavi. Bhairavi tries to tell them she is in doll but they couldn't hear her voice. Maya thinks about her moment with Arjun.
Episode ends.