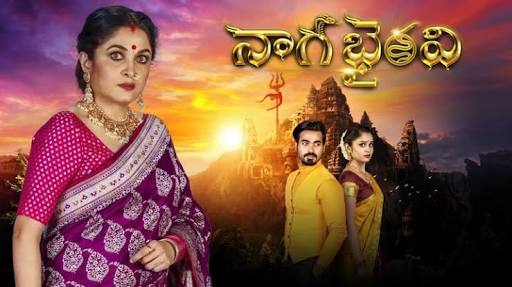 Naga Bhairavi 4th June 2021 Written Update on TellyExpress.com
Episode starts with Kaushalya gives coffee to Shakuntala. Annapurna asks Kaushalya to make Bhairavi get ready for Mangalasnanam and she asks Sanvi to make Arjun ready than she asks Shakuntala where is her husband and son in law. Shakuntala tells her everyone is outside. Sharath and his son in law sees the decoration arrangements of Mangalasnanam. Annapurna comes to Rudra and asks if he saw Aditya. Rudra says he didn't saw Aditya. Annapurna asks him to help in arrangements. Rudra goes. Annapurna asks Shakuntala son in law about Aditya. He tells him Aditya went out.
Aditya reaches to home. Annapurna questions where he went. Aditya tells her he went to bring 108 water lilies for Marriage like Pandit suggested. Annapurna says it's good, I'm searching you to get those flowers only and she asks him to keep the flowers in Pooja room. Aditya agrees.
Malli cries seeing Phanidra state and she tells to Nagaguruvu that she can't live without her Bava and she asks him for way to save Phanidra. Nagaguruvu says you have to take Phanidra revenge so you need to kill the person who stole Nagamani otherwise you may lose your Phanidra forever. Nagini says she will kill the person immediately once she find him. Nagaguruvu asks how she planned to get Arjun married to Bhairavi? And you take an oath to kill yourself if you failed to give them Mangalsutra on time than how can you save your Bava when you didn't even know who stoled that Mangalsutra. Nagini tells him she found who stole that Mangalsutra so I will definitely give it to Bhairavi than I will save my Bava. Nagaguruvu asks who had that Mangalsutra. Nagini says it's with Karkotaka.
Karkotaka thinks Nagamma have to come to me if she wants to fulfill her promise and this time it's like she is coming towards her death and he calls Nagamma to him. Nagamma replies him she is coming and goes to him. Nagaguruvu thinks only time can save these problems.
Bhairavi and Aditya sits for their Mangal snanam ( Haldi). Shakuntala tells her husband it's good to perform both of their Haldi at one place. Rudra in tears asks his Dad to stop the marriage. Veerabhadram assures him that he will stop the Marriage and asks him to act normal Infront of everyone. Ladies and family members applies Haldi to Bhairavi and Arjun while teasing them than everyone perform their Mangalasnanam. Annapurna prays to Nagamma to get the Mangalsutra for Marriage.
Nagini reaches to Karkotaka. He tells her he is waiting for her arrival and shows her Mangalsutra which is kept inside Bandam and asks her to take it if she can and tells her that it's tough to defeat him this time. Nagini says you're scared of me that's why you kept Mangalsutra in Bandam. Karkotaka takes Mangalsutra from Bandam and asks her to take it defeating him if she have courage. Nagini tells him she will defeat him for her devotee than both fights with eachother.
Episode ends.
Precap – Punnaga brings Water lilies for Bhairavi and Arjun's Marriage.