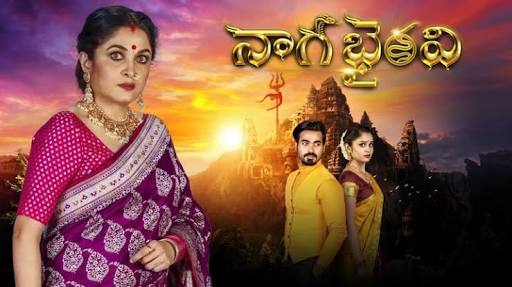 Naga Bhairavi 5th June 2021 Written Update on TellyExpress.com
Episode starts with Nagini fights with Karkotaka but he overpowers Nagini with his power and she fell down due to lack of energy. Karkotaka mocks her telling she can't do anything to him and tells her that he will stop marriage by killing Arjun. Nagini asks Karkotaka to stop. Karkotaka says you take oath to kill yourself, if you failed to fulfill your promise to Bhairavi that's why I'm leaving you and he leaves from that place. Nagini lost her conscious.
Bhairavi and Arjun reaches to Marriage venue at Anthill along with their family. Annapurna takes family members to Anthill to take Nagamma blessings. Everyone prays to Nagamma. Gundamma assigns work to ladies. Annapurna asks Nagamma to bless Arjun and Bhairavi. Shakuntala thinks you promised me that you won't harm my son so fulfill your promise by blessing my son and daughter in law. Aditya prays Nagamma to perform the marriage without any hurdles. Bhairavi and Arjun prays for eachother safety than they goes to take Lord Shiva blessings.
Sanvi sees Veerabhadram and thinks hope he realised that he can't stop Bhairavi marriage with Arjun. Veerabhadram thinks don't underestimate me Sanvi because I won't let this marriage happen. Sanvi thinks his illusions can't be true. Veerabhadram thinks Karkotaka will stop this marriage by killing Arjun and mostly he might be on the way to Mandap.
Annapurna asks Lord Shiva to bless Bhairavi. Shivayya says Lord Shiva will definitely bless her. Annapurna asks Bhairavi and Arjun to take Shivudu blessings. Arjun and Bhairavi takes blessings of Shivudu.
Gundamma asks Pandit if he needs anything. Pandit asks who's she. Gundamma tells him she is Arjun's friend. Karkotaka is on the way to Mandap. Family members make Arjun and Bhairavi sit in Mandap. Aditya goes to Shivudu and says Maya told us that she will stop this marriage, you trapped her so she won't cause any problem in Marriage right. Maya shouts and tells to Shivudu that she will definitely create problems to stop the Marriage. Shivudu thinks you can't do anything and he tells to Aditya that Maya won't create any problems and asks him to concentrate on marriage works. Pandit says according to your family ritual their is Pooja to Nagamma before marriage and he have NagaDosham so bride and Groom must perform NagaDosham Pooja with water lilies than we can start the Marriage. Aditya tells him water lilies are ready. Pandit says count must be 108 that's important. Jalaja steals some water lilies without others notice. Aditya praises his sister is looking like Sri mahalakshmi. Shakuntala says Bhairavi is going to be their mahalakshmi.
Episode ends.
Precap – Karkotaka enters to Mandap as jangara Deva to kill Arjun.