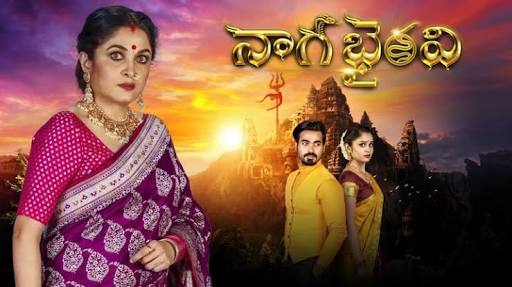 Naga Bhairavi 8th July 2021 Written Update on TellyExpress.com
The episode starts with Bhairavi begs Manasa Devi to save her husband's life from Nagamma. Manasa Devi says she can't break Nagamma's oath. Arjun and Bhairavi questions can't she bless her devotees. Manasa Devi says she can save her devotees but she have to value her snake species rules too that's why she can't break Nagamma's oath and she gives them boon saying Nagamma can't kill Arjun when Bhairavi with him. Bhairavi thanks Manasa Devi for her blessings and tells to her that she won't leave Arjun in any moment.
Bhairavi and Arjun returns to home and informs everything to family members. Shakuntala praises Bhairavi's efforts and says she don't know how to thank her. Bhairavi says Arjun can do anything for me and it's my responsibility to do it for him. Shakuntala kisses Bhairavi's forehead saying she is their families luck. Annapurna praises Bhairavi and she asks Bhairavi to never leave Arjun in any moment. Bhairavi says she will never leave Arjun. Kaushalya suggest to perform First night of Bhairavi and Arjun. Aditya asks Annapurna's permission to call Pandit to know the Muhurta fit first night. Annapurna tells them Pandit already informed that their is no Muhurta in near days. Aditya asks what they have to do. Annapurna says she is not understanding what to do.
Nagini feels bad seeing Phanidra state and tells to Phanidra about Manasa Devi's blessings to Arjun and Bhairavi than she thinks to fight like Bhairavi to save her Phanidra.
Next day Aditya and Arjun teases Kaushalya. Kaushalya asks where is Bhairavi. Arjun tells them Bhairavi went for bath. Annapurna says Arjun is lucky. Aditya says he is lucky because of his wife. Bhairavi joins them and asks why they are teasing Kaushalya while involving her. Arjun says their is nothing. Bhairavi asks Arjun to comeout with her. Arjun asks where she wants to go. Bhairavi asks won't he come if she didn't inform him the place. Annapurna asks where she wants to go. Bhairavi says she wants to go the place where they used to meet before their Marriage. Aditya teases them. Kaushalya supports them. Than Aditya asks them to leave. Bhairavi takes car keys from Arjun saying she will drive and they leaves in car.
Family members feels happy than they goes inside and gets shocked seeing Bhairavi is coming out from her room. Annapurna and Kaushalya asks how she came inside. Bhairavi asks why they are talking in this way and questions if they are joking. Aditya says it's not home, just now we sent Arjun with you. Bhairavi tensely says it might be Nagamma who took Arjun with her and questions if she told her about the place where they are going to. Annapurna says she mentioned it's the place where you met regularly. Bhairavi runs out to save Arjun. Family members tries to follow her but Aditya and Kaushalya stops seeing Annapurna's health condition.
Episode ends.
Precap – Arjun fell unconscious while escaping from Nagamma. Bhairavi searches for Arjun.