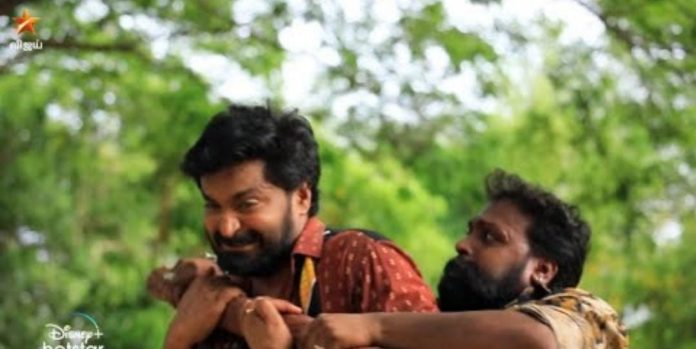 Nam Iruvar Namak Iruvar 2 Upcoming Story, Spoilers, Latest Gossip, Future Story, Latest News and Upcoming Twist, on TellyExpress.com
Vijay tv fame "Nam Iruvar Namak Iruvar season 2" take a major twist. Now serial concentrating on Maaran rushes to save Maayan!
In the previous episode we saw; Maayan informed to Rathinavelu and left from there along with Maha. Parvathy got emotional saw them left. Later Maasani informed to Vadivu that he planned to ruin Mayan family. He revealed to her that he planned to kill Maha. Vadivu got shocked to hear it. She asked him to don't do it reasoning she was pregnant. Maasani was adamant in his decision to kill her to ruin everyone happiness. He locked her inside when she stopped him.
Meanwhile Maayan got many calls from friends about his baby. Maha switched off his phone to avoid it. Vadivu called to Nachiyar and alert her. She got panic and informed Rathinavelu about it. Saradha and Maaran rushed out to save them.
In the upcoming episode viewers will see; Mayan will stop car to break coconut in temple. Maasani and his goons will attack Maha. Mayan will throw coconut at them. He will fight with goons. Maasani will about to beat him. Nachiyar will be beaten while save him. Everyone will get shock to see it.
What will happen next? Will Nachiyar survive? When will Maaran and Maayan unite?
Upcoming episode will answer to our all questions stay tune with our space for more updates.