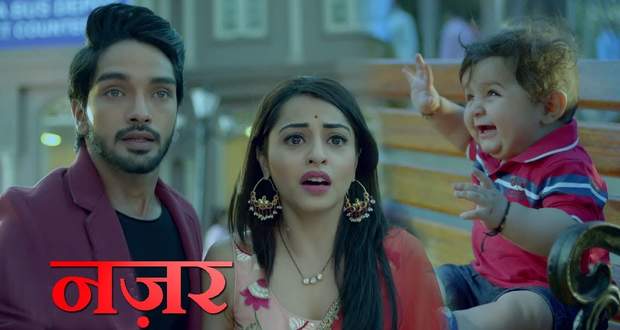 Star Plus supernatural show Nazar is seeing some major points these days in their story line. Earlier it's seen that Piya will cure Adrishi using the ras but to her dismay Ansh is still under evil ras influence. Now it will be seen that Mohana will kidnap Aayush and manipulates him against his own family while Piya completely cures Ansh.

In the previous episodes it's seen that Mohana tries to drink the two moon night juice that came out of Ansh body in order to become the queen. However before that Piya throws it on Adrishi in order to cure him and Adrishi gets cured.
When they were about to rejoice their victory it will be revealed that few amount of ras is still in Ansh body and is still under evil effect. On the other hand Mohana gathers all the Kaali Shakti in order to kill Piya and take back Ansh. Later Ansh apologizes Piya for not Letting her enjoy her brother's return. Aayush gets affected by moon light.

In the upcoming episodes it will be seen that Mohana kidnaps Aayush using Kaali Shakti. Later she brainwashes him against his own family saying that they don't care about him.
On the other hand Piya takes a drastic step and finally releases the remaining Ras from Ansh body. Later Aayush gets into Mohana's trap and falls for get words. He attacks Ansh and his family.

Will Ansh and Piya make Aayush realize his mistake? Will Aayush able to realize the trap?
All these questions will be answered in the upcoming episodes.

To know what will happen next in your favorite show Nazar , stay tuned to this space.