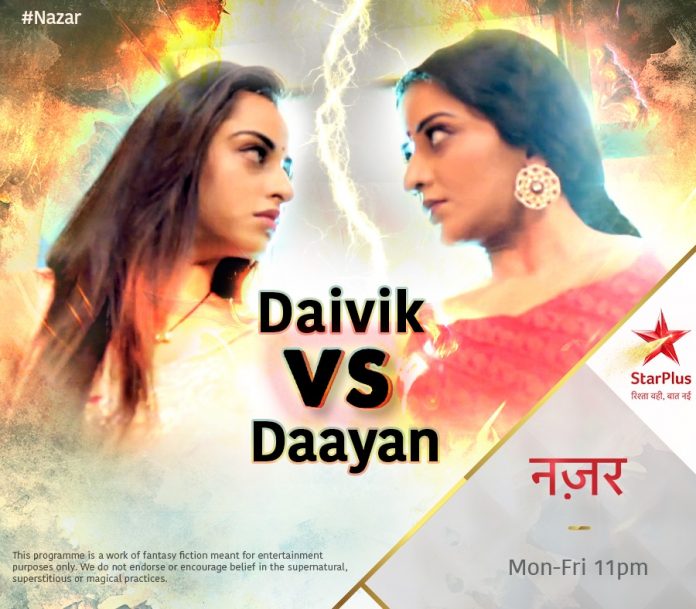 Star Plus supernatural show Nazar is seeing some major points these days in their story. As we have reported earlier Bhasmika in the form of Piya will enter Rathod house and tries getting intimate with Ansh.
In the previous episodes, it's seen that Bhasmika disguised as Piya will reach Ansh's home and informs that she has forgiven Ansh for the happiness of their children. In the meantime Piya realizes that she can only touch sand and Nishant, Naman and Saanvi doubt on Bhasmika in someone's body.
Piya uses sand to let her family know that Bhasmika took her form and them rushes to stop Bhasmika. In the meantime, Bhasmika gets close with Ansh and starts romancing him while Piya stands helpless. Ansh, however, realizes that she's not Piya and Bhasmika pushes him hard. She says that he has found her but can never save the real Piya. Piya tries calling Ansh but he couldn't hear her.
In the upcoming episodes, it will be seen that Ansh senses that it's not Piya and finds Piya's soul in the golden ashes. However, Bhasmika forcefully kisses Ansh and gets her power. Added to it she'll kill Piya by stabbing her and leaves her body. Piya reaches heaven and wishes to return back to her family and love.
Ansh, on the other hand, decides to bring back Piya from death and commits suicide. He'll prove his love in heaven in front of God and God reunites Ansh and Piya and they come back to life.
Will Bhasmika brings back Mohana with her obtained powers? Will Ansh and Piya able to kill Bhasmika forever? All these questions will be answered in the upcoming episodes.
To know what will happen next in your favorite show, keep watching this space for new and exclusive update