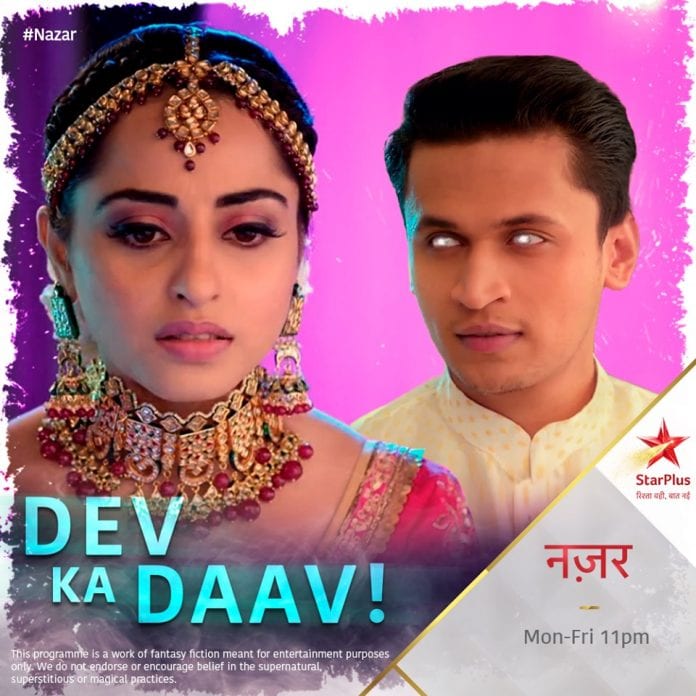 Star Plus supernatural show Nazar is seeing some major points these days in their story. As we have reported earlier Mohana helps Piya to stop Maha Dayan Jod and also gets her eye back. Now it will be seen that she'll save Vedashree and will asks something in return much to the shock of the family.
In the previous episodes it's seen that the family gets to know about the doll having Pratimayan's hair and will try stopping it but couldn't. However later with the help of Mohana Piya fools the doll and also stops the Maha Dayan Jod. Ansh asks Mohana if she can save Vedashree but she stands silent. Later Nishant reveals that jr has found a way yo revive Vedashree but needs Pratimayan's hair for it which is already fester.
In the upcoming episodes it will be seen that Mohana will keep a demand for helping the family save Vedashree. She gives her hair and asks Ansh to kill Kalashree once she separates them before Maha Dayan Jod happens. Ansh too identifies Vedashree following his heart and will kill Kalashree. Later Mohana says about Angad to the family and asks them to support her in marrying him. Ansh will deny to it but Chaitali, Piya and Vedashree decides to help Mohana and stand by her side.
Will Ansh agree for Mohana to move on with Angad? Did Mohana change for good or is it an act to marry Angad?
All these questions will be answered in the upcoming episodes
To know what will happen next in your favorite show, keep watching this space for new and exclusive update