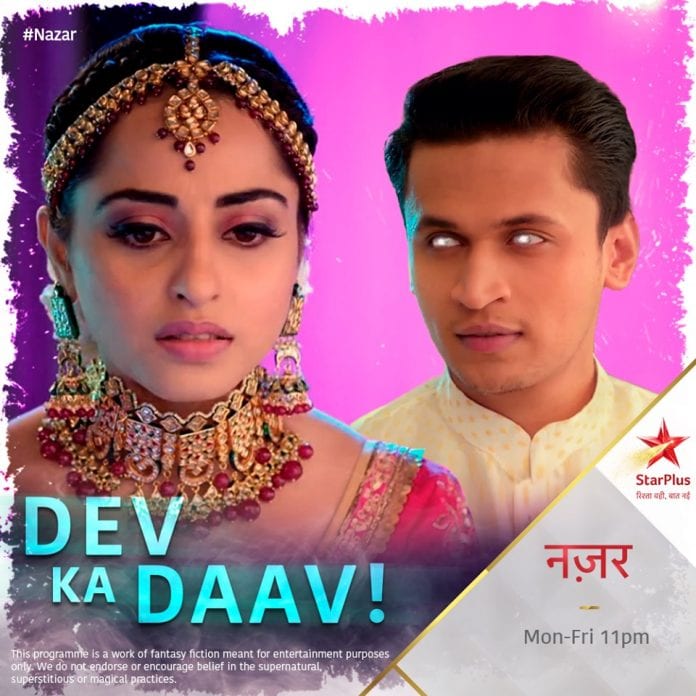 Star Plus supernatural show Nazar is seeing some major points these days in their story line. Earlier it's seen that Piya is actually possessed by a Dayan who is the biggest enemy of Ayan. To everyone's shock Piya and Mohana comes face to face. Now it will be seen that Ansh and the family makes a plan with Piya to dodge the proposal but Piya outsmarts them by conducting her own swayamvar.

In the previous episodes it's seen that Mohana brings an alliance for Ansh and an angry Piya tries harming the girl. Ansh saves her on time and informs Nishant about the same. Nishant finds that Piya is possessed by a Dayan named Visharika who's the biggest enemy of Ayan who happens to be Mohana.
Mohana on the other hand spots Piya in Ansh room but thinks her to be a call girl. She decides to get Ansh married soon and will arrange for his swayam vadhu. Later Ansh agrees for the marriage and an angry Piya comes face to face with Mohana.

In the upcoming episodes it will be seen that both Mohana and Piya are about to fight but Ansh and the family manages to control them. The family explains Mohana that Piya is just there to meet her children while on the other hand Ansh explains his plan to Piya. He asks her to help with it.
Piya who's now possessed with Visharika gets extremely happy knowing about it. Later she outsmarts Ansh and his plan shocking everyone by conducting her own swayamvar.

Will Piya gets released of Visharika's possession? Will Mohana get her powers back?

All these questions will be answered in the upcoming episodes.

To know what will happen next in your favorite show Nazar , stay tuned to this space.