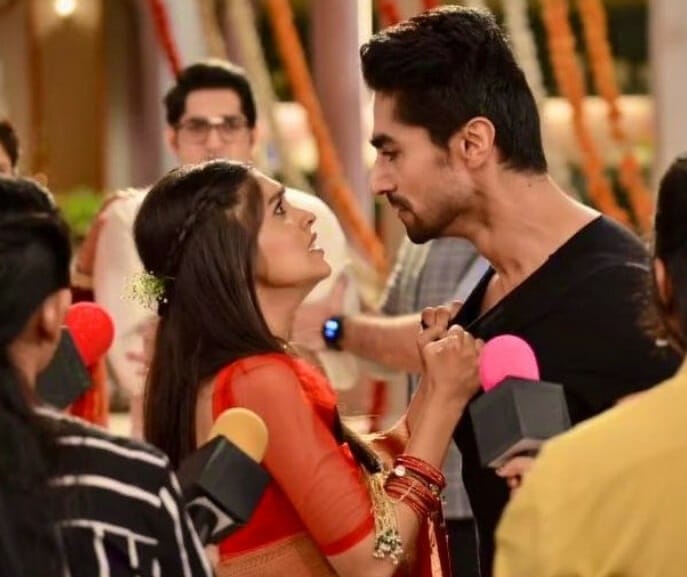 Yeh Rishta Kya Kehlata Hai is high on drama. Akshara and Abhimanyu come face to face during Ganpati Visarjan. Akshara demands Abhimanyu to give her 24 hour time so that she can bring evidence in Kairav's favor. Things worsen for Akshara when Kunal took the proofs and tries to blackmail former. Akshara took original copy from her spy and left it Maya's finale event. In the meantime, Kunal to avenge Akshara managed to convince Abhimanyu that Akshara agreed to lend her voice to Maya for Kairav's sake.
Furious Abhimanyu get Kairav and Manish arrested to avenge Akshara.
Now the makers of the show have released a shocking promo. It seems Abhimanyu and Akshara's love will be tested more. Abhimanyu in the new promo claim Akshara never loved him. Akshara will reveal the truth which will make Abhimanyu to realize his mistake. Abhimanyu will be guilty for not trusting Akshara. What attempts Abhimanyu will make to get back Akshara in his life will be enjoyable to watch. So far current track and new promo is upsetting online crowd. Online viewers of the show are unconvinced with the on-going story. No sooner the new promo was out; fans showered the mixed reaction on the upcoming. See:
Sorry but what a boring and fuss promo, channel should play precap as promo, then aunties attract hoti show ki taraf, what kind of promo was this? Ese promo se to audience aur door bhaagegi #yrkkh #AbhiRa #HarshadChopda #PranaliRathod
For me both Abhi n Akshu are correct at their places n reacting according to the situations. Abhi don't know ki Akshu na proof's uski room mai rakhi thi,and time pai aayi thi. Akshu bhi abhi ko batanahi payi na abhi puch nahi paaya n #AbhiRa #yrkkh #HarshadChopda #PranaliRathod
I again say, both made mistakes and they will repent. After mrge,Abhira never worked as a team/couple. They act as an individual only. They didn't find a middle ground in the mrge where they both can stand together. After this track, I hope they will. #yrkkh #AbhiRa
https://twitter.com/indumadhesh/status/1572818273624010752
See jst lyk akshu hs suffrd abhi has suffrd too. No1 talking abt abhi's traumas. He hs sffrd kept in dark dnt knw truth. bt the only only thing dat went wrong in all of this is media. wo cheez h jo beyond digestable. othrwise both abhi n akshu r absolutely wrng #yrkkh #AbhiRa
Abhimanyu vs Akshara; whom you are supporting? Drop your answers in the comment box.
Yeh Rishta Kya Kehlata Hai gained 2.1 TRP this week. Show features Harshad Chopda and Pranali Rathod .
Follow us for TV serial news and updates