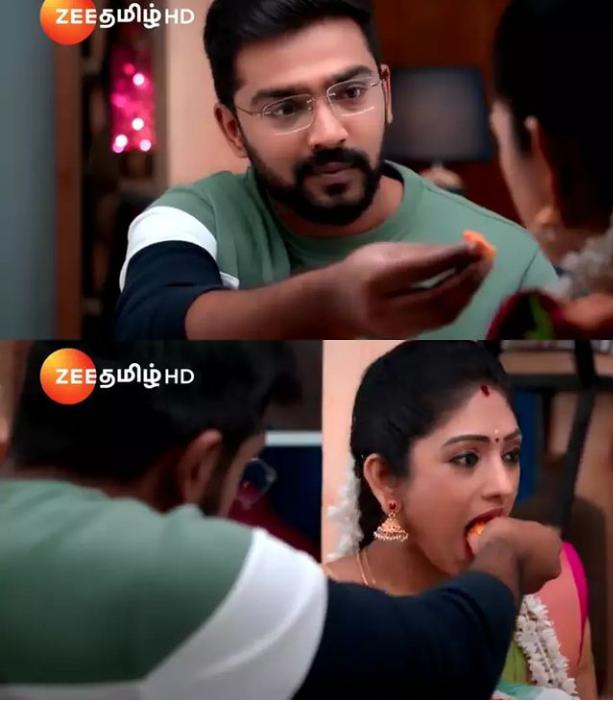 Ninaithale Inikkum Upcoming Story, Spoilers, Latest Gossip, Future Story, Latest News and Upcoming Twist, on TellyExpress.com
Ninaithale Inikkum is popular for its unique storyline. The story revolves around a girl Boomi makes bakery items and sells them on the streets. She dreams of opening a sweet shop. Ninaithale Inikkum is the passionate story of Boomi dreaming to be a businesswoman. Will Boomi make her dream real? Earlier we saw, The family opposed Thirumurthi's son's alliance for Dharshini. Boomi wore Annalakshmi's saree. Siddharth slapped Boomi. Now the viewers will see, Siddharth will feed Boomi.
In the previous episode, Preethi told Jagadish to change his attire. Preethi scolds Boomi, who gives her opinion about Jagadish's attire. Preethi scolded Boomi, who gave her opinion about Jagadish's attire. Siddharth gave Annalakshmi's sari to Boomi. Batman blessed Preethi and Jagadish. Boomi made changes in the structure of the house designed by Siddharth.Bathman refused to bless Boomi. Arunachalam gifted a car for Preethi. Bathman insulted Boomi.
In today's episode, Bathman's wicked plan to ruin Boomi's business. Siddharth goes office with the miniature. Arunachalam introduces Siddharth to the client. Siddharth commences the presentation. He suspects the miniature when he takes it out. Siddharth feels uneasy. Arunachalam scolds Siddharth for ruining the projects Siddharth is upset. Elsewhere, As per Bathman's plan. Ramnath approaches Boomi. Boomi is happy with the huge order and gets the false cheque from Ramnath. She happily informs about her first order. Bathman's words confuse Boomi. Dheivnayagam and his family encourage Boomi. Siddharth questions Boomi about the miniature. Boomi discloses her deeds to Siddharth. She apologizes to Siddharth. Siddharth slaps Boomi for her deeds.
In the upcoming episode, Dheivnaygam will question Siddharth when Boomi fails to come down. Siddharth will inform the family about Boomi's deed. Siddharth will feed Boomi to pacify her.
Will Boomi apologize to Siddharth? Will Bathman plan succeed? All these questions will be answered. Keep checking the space for the latest update on your favorite Tamil shows.