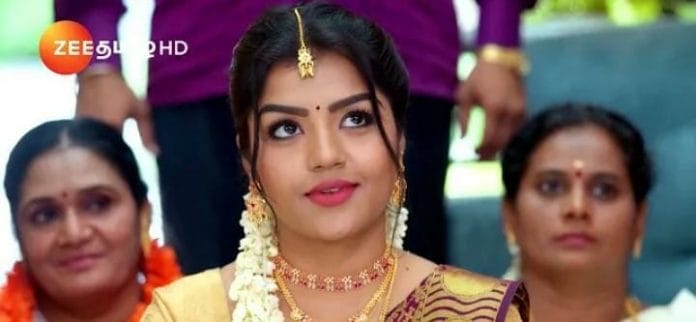 Ninaithale Inikkum Upcoming Story, Spoilers, Latest Gossip, Future Story, Latest News and Upcoming Twist, on TellyExpress.com
Zee Tamil's daily soap Ninaithale Inikkum serial never fails to engage its audience with its unique storyline. Boomi a young salesman wins the affection of a family of Anjali sweet traders. Boomi married business-minded hero Siddharth.
In the previous episode, we witnessed that,
Siddharth advised Boomi to improve Ganapathi sweets. Siddharth wished to celebrate Anjali sweets silver jubilee celebration. The family organized a party to celebrate their silver jubilee.
Dheivnaygam and the family tasted the spiked drink. Tamana used this as an opportunity to stage an act in front of Siddharth. Siddharth looked for Boomi.
In today's episode, Tamana stages an act as a drunkard. Tamana expresses her love to Siddharth. Siddharth scolds Tamana when she tells him to avoid Boomi. Siddharth pushes Tamana when she kisses him. Siddharth warns Tamana. Boomi is proud of Siddharth's action.
Boomi slaps Tamana when she tries to impress Siddharth. Boomi warns Tamana and tells her not to enter the home with the wrong motive. Tamana urges Nalini. She shares everything with Nalini.
Batman stops Nalini and Tamana. Tamana lies to Batman. Batman comes up with a plan. The next day, the drunkard members wake up one by one. They share what they did yesterday.
Boomi gets surprised when Tamana and her family visit Innupu Illam with Seer. The family eagerly to know. Batman announces to the family Tamana and Vinay's wedding proposal.
In the upcoming episode, Tamana will take revenge. Nalini will think of an evil move to enter Innupu Illam. The family will plan Tamana and Vinay's wedding.
Will Vinay marry Tamana? Keep checking the space for the latest update on your favorite Tamil shows.