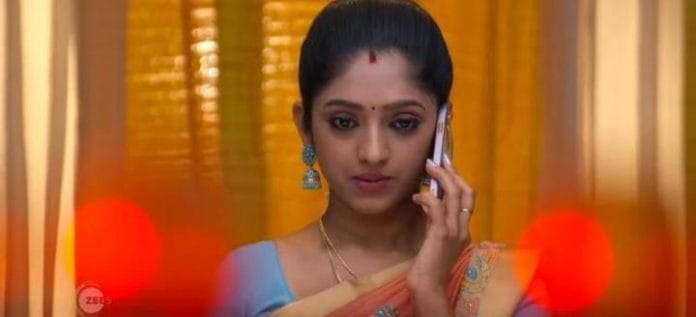 Ninaithale Inikkum Upcoming Story, Spoilers, Latest Gossip, Future Story, Latest News and Upcoming Twist, on TellyExpress.com
Zee Tamil's daily soap Ninaithale Inikkum serial never fails to engage its audiences with its unique storyline. Now the serial concentrate on Boomi will try to change Siddharth's guilts.
In the previous episode, we witnessed that,
Siddharth believed Vijay's lie claiming that he loved Swetha. Boomi comforted the devasted Dheivnaygam. Tamana ruined Boomi and Dheivnaygam's move. Swetha's parents listened to Boomi. Boomi refused to leave Swetha's home.
In today's episode, Swetha's mother spots Boomi in front of the gate. Swetha's parents take her inside when she faints. They listen to her problem. She asks them to forgive Siddharth. She shows Siddharth's gift and Swetha and Siddharth's photos to them. They accept to forgive Siddharth.
Boomi invites Siddharth to the restaurant to meet Swetha's parents. Siddharth is eager to know who is talking on the phone. On the way, Tamana's goons spoil Boomi's move. Siddharth enters the restaurant unconsicous state. Swetha's parents misunderstand Siddharth.
Boomi tries to stop them. But they refuse to listen to Boomi. They disbelieve Boomi. Boomi is disappointed with Siddharth's act. The next day, Siddharth is disturbed and he wishes to learn what happened yesterday. Tamana shows a video clip to Siddharth. Siddharth notices Swetha's parents in the video. He rushes to see them.
Swetha's parents are unhappy to see Siddharth at his place. Siddharth apologizes to them for his behavior. They refuse to listen to Siddharth. Siddharth gets tensed by an anonymous call. Boomi urges Siddharth to sing a song at the reunion. Siddharth switches off the mobile. Dheivnaygam shares the plan with Jagadish and Dharshini.
Will Siddharth sing at the reunion? Will Siddharth change his behavior?
Will Boomi solve Siddharth's guilt? Will Siddharth accept Boomi?
Keep checking the space for the latest update on your favorite Tamil shows.