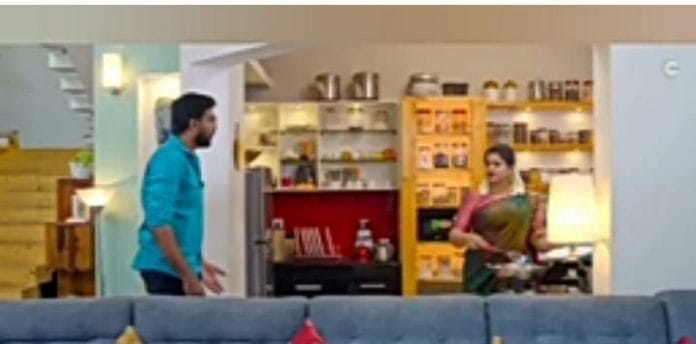 Ninaithale Inikkum Upcoming Story, Spoilers, Latest Gossip, Future Story, Latest News and Upcoming Twist, on TellyExpress.com
Zee Tamil's daily soap Ninaithale Inikkum serial never fails to engage its audience with its unique storyline. Boomi a young salesman wins the affection of a family of Anjali sweet traders. Boomi married business-minded hero Siddharth.
In the previous episode, we witnessed that,
Anjali hesitated to bless Boomi. Raghavan executed the plan. Ganeshan visited Ganapathi's sweets instead of Anjali's sweets. Raghuvaran used this as an opportunity to instigate Batman. Batman believed Raghuvaran's lie and shouted at Boomi. Nethra's henchmen visited Ganapathi sweets to execute the plan.
In today's episode, Boomi is heartbroken by their actions. Tamana's henchmen show the video to Tamana. Tamana is happy with Boomi's condition. Nethra advises Raghuvaran to instigate Batman. On the other hand, Siddharth visits Ganapathi's sweets. A shock for Siddharth.
Siddharth inquires Malika about it. The police commence the investigation. Siddharth shares his suspicion with the police. Later, he takes Boomi to the hospital. Siddharth urges Boomi to take the breakfast.
Boomi shares everything with the family. Siddhartha suspects Batman when a disheartened Boomi informs the family how the goons vandalized the store. Boomi stops Siddharth when he argues with Batman. Siddharth advises Boomi to take a rest.
Raghuvaran informs Tamana about what is going on in the Dheivanygam's home. Siddarth worries about Boomi's state. He tends to ailing Boomi. Boomi laments while sleeping.
Siddharth takes care of Boomi. The next day, Boomi wakes up and visits Ganapathi sweets. With the help of her sister. She arranges everything in order. Her sister finds a wallet in the store. Elsewhere, Siddharth looking for Boomi in their home.
Will Siddharth finds the truth? how will Boomi convince Siddharth?
Will Siddharth avoid Boomi?
Keep checking the space for the latest update on your favorite Tamil shows.