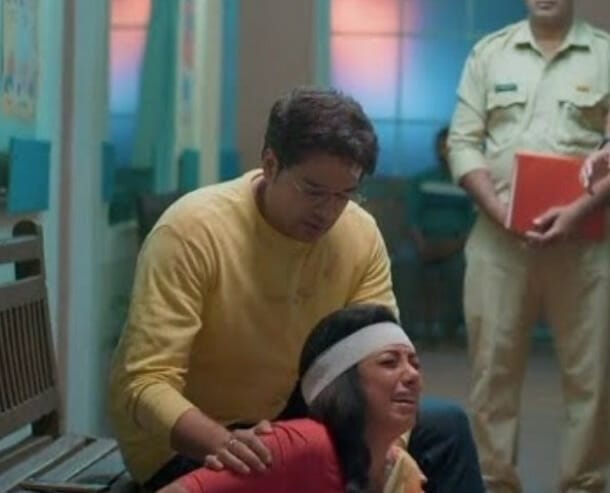 Anupamaa Spoilers, Upcoming Story, Latest Gossip , Future Story, Latest News and Upcoming Twist on TellyExpress.com
Drama to galore in Anupama post Nirmit will dump Dimpi post learning she has been assaulted.
In today's episode, Anupama worries for Dimi post Anuj ask her if she is fine. Anuj tries to wake up Nirmit. Anupama finds Dimpi's hair clip. She looks for Dimpi. Anuj and Anupama wonder where Dimpi went. They find her stuffs on road. Anupama goes to check in the jungle. She gets shocked seeing Dimpi and cries. Anuj panics too seeing Dimpi. He screams No. Anupama cries post seeing Dimpi.
Anupama, Anuj takes Dimpi and Nirmit to the hospital. Anuj also goes seek police help to catch the culprits. Anupama recall Dimpi and think latter was happy few hours back and now lying unconscious. She regret for not able to save Dimpi. Anupama says how a man can misbehave with Dimpi.
Leela spots Vanraj with the lunch box and confront. Kavya asks Vanraj if he is taking lunch box for Pakhi. Vanraj asks not to make an issue even if he is caring lunch box for Pakhi. Kinjal, Kavya, Paritosh and Leela stops Vanraj from giving lunch to Pakhi. They asks Vanraj to let Pakhi survive independently.
Elsewhere Anuj says nothing is worse than boy touching a girl without her consent. Anupama worries how Dimpi will react post regaining her consciousness. Anuj regret for not able to save Dimpi from the hooligans. He also regrets dropping Dimpi and Nirmit in the middle of the road. Anupama cries.
In the upcoming episode, Anuj, Anupama will decide to fight for Dimp. Nirmit will dump Dimpi. Dimpi will be shattered. Anupama will take Dimpi to her house. It will be interesting to watch who will become ray of hope in Dimpi's life.