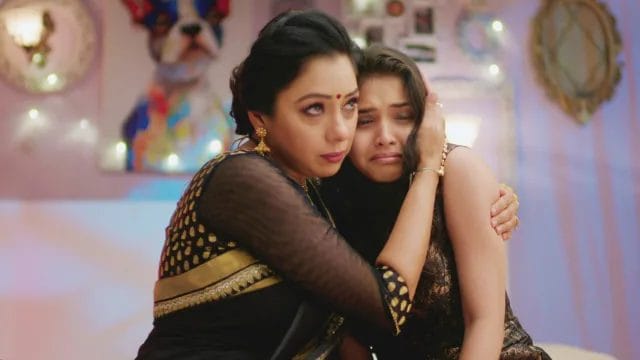 Anupamaa Spoilers, Upcoming Story, Latest Gossip , Future Story, Latest News and Upcoming Twist on TellyExpress.com
Vanraj will break his tie with Pakhi and Adhik. Elsewhere, Anuj too will refuse to accept Adhik back in his house.
In today's episode, Pakhi tries to convince Shahs to accept her marriage. She goes to Vanraj and urges him to accept her marriage with Adhik. Pakhi asks Vanraj to excuse her mistake like Paritosh and hug her. She begs forgiveness from Vanraj. Adhik think if Vanraj if accept others will get convinced easily.
Vanraj ignores Pakhi and leave the place. Pakhi cries. Ankush asks Adhik why he didn't waited for one day. Anupama says that Pakhi and Adhik are clueless about the consequences of their step. Shahs worries about Vanraj's reaction on Pakhi's action. Leela asks Kavya to go to Vanraj. Kavya says she don't have a courage to face Vanraj.
Vanraj packs Pakhi's stuffs. Anuj asks Anupama to give him medicine as he is having a headache. Anupama gives medicine to Anuj and Leela. Ankush decide to reveal to Barkha about Adhik and Pakhi's marriage. Vanraj throws Pakhi's bag out of the house. Shahs stand stunned. Leela asks Vanraj to stop the drama.
Vanraj regrets being Pakhi's father. Anupama stand teary. Adhik walks out from the house. Pakhi and Vanraj recall their past. Vanraj adds he is a father thus he will not curse Pakhi but he will not bless her either. He asks Pakhi to leave the house.
In the upcoming episode, Pakhi will regret marrying Adhik. Adhik will ask Pakhi to stand by her decision. Anuj will try to convince to accept Pakhi and Adhik's marriage. Vanraj will break his tie with Pakhi. How Pakhi will react on Vanraj's decision will be interesting to watch.
Keep visiting us for TV serial latest update