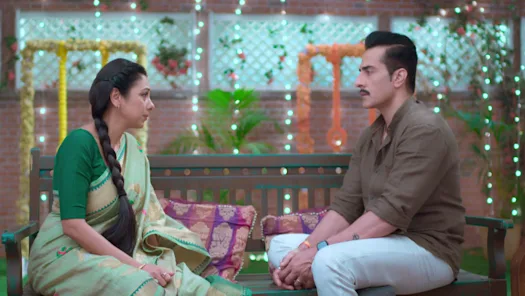 Anupamaa Spoilers, Upcoming Story, Latest Gossip , Future Story, Latest News and Upcoming Twist on Justshowbiz.net
Barkha will hatch a plan to get rid -off from Pakhi. She will invite Pakhi in her team with a hidden motive
In today's episode, Pakhi demands for grand wedding. Anupama asks Pakhi to be happy elders of the house agree for her marriage with Adhik. Barkha adds Pakhi and Adhik deserve marriage at Shah house. She says Adhik don't even deserve that too. Pakhi raises her voice on Barkha. Anupama calls Pakhi incredible. She says too Pakhi that being a mother she tolerated her insolent. But Barkha is like a mother-in law to her, Anupama asks Pakhi to give respect to her.
Pakhi about to defend. Adhik interrupts and apologize to Anupama on Pakhi's behalf. He convinces Pakhi to agree for the wedding at Shah house. Adhik assures about throwing grand party post the wedding. Barkha asks Adhik how he will give rand wedding. Adhik says he has savings. Barkha says post spending his saving he will not have a penny for a coffee. Pakhi gets angry. Barkha asks Pakhi if she getting angry than she can defend. Adhik control Pakhi. Anupama sees Adhik.
Elsewhere, Barkha tries to bring Adhik's true face. Ankush alerts Barkha. Barkha gets adamant.
In the upcoming episode, Barkha will make a plan to turn Pakhi against Anupama. She will convince Pakhi that Anupama doesn't want her grand wedding because her wedding took place at Shah house. Pakhi will get convinced and will confront Anupama. She will misbehave with Anupama again. Will Anupama excuse Pakhi again like every time or there is more to the story? Keep watching the show for more entertainment.
Follow this space for TV serial latest updates