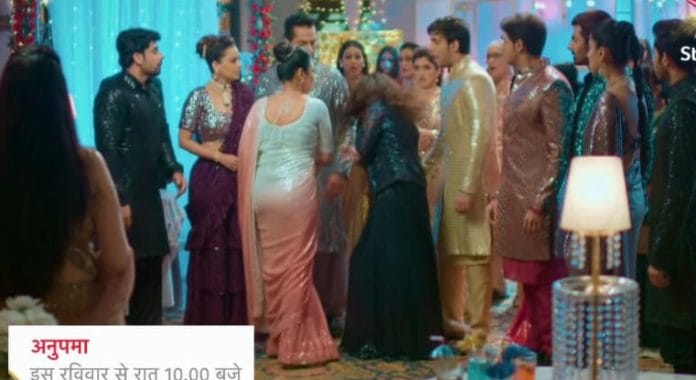 Anupamaa Spoilers, Upcoming Story, Latest Gossip , Future Story, Latest News and Upcoming Twist on TellyExpress.com
Anupama will disown Pakhi post she will disrespect Kanta and Bhavesh
In today's episode, Pakhi says to Vanraj that she realise her mistake. She says she knows her step was wrong but Adhik is not wrong. Pakhi asks Vanraj to join her functions as she wants him at her side. Vanraj tells to Pakhi that he wanted to be a part of her wedding but his anger was coming in between. He thanks Anuj for his reverse phycology. He thanks Anuj for taking up the responsibility of Pakhi when he disowned her. Vanrja along with Shahs practice for Pakhi's sangeet. Adhik takes Vanraj's blessing.
Family photo frame cracks. Anupama stand stressed. Vanraj instructs the helper and do the arrangements. Shahs and Kapadia's gather to celebrate the sangeet. Pakhi complaint to Adhik that Devika has done the cheap decoration. She worry Devika will ruin her wedding set-up too. Adhik talks in favour of Devika. She asks Pakhi not to spoil her mood as decoration is good. Barkha and Vanraj taunt each other amid the sangeet.
Barkha's friend asks her why she didn't planned destination wedding for Adhik. Barkha says she would have got Adhik's wedding done at Paris but Anuj wants a simple one. She introduces Pakhi to her friend. Pakhi tries to be classy and disrespects Bhavesh and Kanta. Anupama lectures Pakhi on disrespecting Bhavesh and Kanta. Pakhi gets irked with Anupama for spoiling her mood on her sangeet. Barkha smirk hearing Pakhi and Anupama's conversation.
In the upcoming episode, Anupama will slap Pakhi and will disown her. She will ask Pakhi to stand on her own feet if she has courage. Adhik and Pakhi will leave the place. What will Pakhi do to re-enter Kapadia house. Well, time will only tell.
Follow us for TV serial latest updates