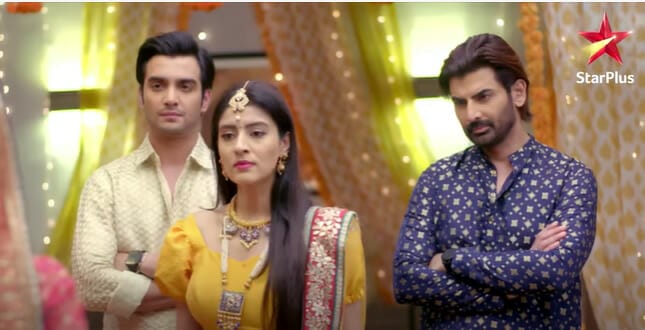 Anupamaa Spoilers, Upcoming Story, Latest Gossip , Future Story, Latest News and Upcoming Twist on TellyExpress.com
Barkha will decide to poison Pakhi's brain again Anupama to avenge both of them.
In today's episode, Anupama counts 4 days and says Pakhi will bid farewell soon. Anuj asks Anupama not to worry as they will handle everything
Pakhi introduces herself to Barkha's friend. Barkha says Pakhi is Anupama's daughter. Pakhi adds Barkha gave her half-introduction. She introduces her as Adhik's wife. Barkha and two others get shocked. Anuj plans and divide the function. Vanraj gives Pakhi's share of money to Anupama and Anuj and asks to spend on the wedding. Anuj refuses to take. Vanraj insists Anuj and Anupama.
Barkha's friend asks her why she didn't invite her for Adhik's wedding. Pakhi discloses about Barkha's loss in the business. She also tells Barkha's friend about Barkha trying to own Anuj's house and company. Barkha gets stunned.
Pakhi think she is not weak to bear Barkha, if she insults her. She thinks she isn't Adhik to sit and hear. Barkha taunts Anupama. Anupama asks Barkha what Pakhi did. Barkha and Pakhi discloses about the recent incident. Anupama asks Pakhi to stop misbehaving with Barkha. She says Barkha is elder to her. Pakhi says Barkha can't over rule her. Anuj asks Pakhi to start respecting elders
Elsewhere, Kinjal returns back home. Shahs welcome Kinjal. Vanraj gets happy seeing Kinjal and Pari.
In the upcoming episode, Barkha will manipulate Pakhi against Anupama. Pakhi will confront Anupama about not letting Anuj spend money on her wedding. She will claim that Anupama is jealous. Will Anupama give befitting reply to Pakhi or she will wait for the right time? Time will only tell.
Keep visiting us for TV serial latest updates