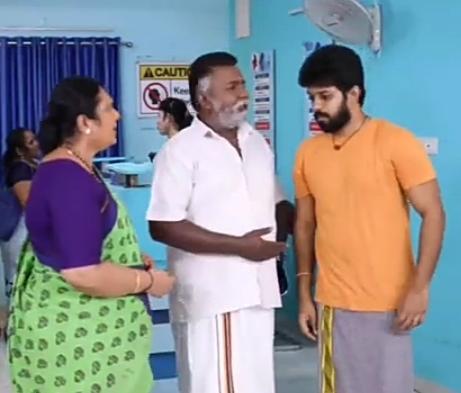 Pandian Stores Upcoming Story, Spoilers, Latest Gossip, Future Story, Latest News and Upcoming Twist, on TellyExpress.com
Pandian Stores is a famous Vijay Tv show. This show entertains the viewers every day with a lot of twists and turns in its storyline. Moorthy and Dhanam sacrifice a lot to raise their brothers Kathir, Jeeva, and Kannan. Now the serial focuses on Kathir will be adamant about his decision.
In the previous episode, Jeeva struggled to arrange money for Moorthy's operation. Janardhan helped to pay off the hospital bill. Dhanam felt shattered and asked Kannan to inform Kathir about Moorthy's health state. Kasthuri blamed Kathir and Mulla for Moorthy's state.
Jeeva informed Meena about Moorthy's health state. Meena and Aishwarya shared the household chores. Dhanam ignored Mulla tried to talk with her. Janardhan blamed Kathir for Moorthy's state. Dhanam felt better after visiting Moorthy.
In today's episode, Kasthuri visits Moorthy's home and shares what happened in the hospital with Aishwarya and Meena. She shares Kathir's adamant decision with Aishwarya and Meena. On the other hand, Dhanam takes care of Moorthy. Murugan and Pavrathy visit the hospital.
Kathir tells them to meet Moorthy. Murugan and Pavarthy talk with Moorthy. They spend some time with Moorthy. Kannan requests Kathir to change his decision. Kathir is adamant. Jeeva refuses to receive money from Janardhan to pay the bill.
In the upcoming episode, Kathir will wish to meet Moorthy. Kathir will adamant about his decision. Jeeva will stop Kathir from meeting Moorthy. Who will take care of the Pandian supermarket? Will Kathir stay in the hospital? Where will Mulla and Kathir stay? How will Kathir pay off the debt? Will Moorthy faces a financial crisis?
To know what is going to happen next in your favorite show Pandian stores, keep watching the serials stay tuned to this space for new daily updates.