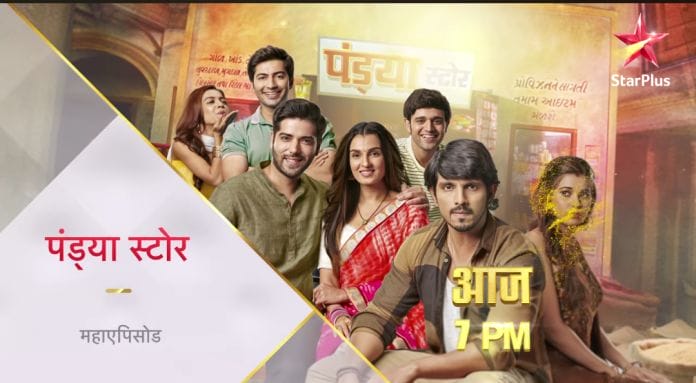 Pandya Store 10th May 2022 Written Update on TellyExpress.com
The episode starts with Raavi coming to the terrace to sleep. She's surprised to find Shiva sleeping on the swing there. She sleeps next Shiva on a rope bed. Raavi tries to touch Shiva. Shiva wakes up and holds her hand he kisses her and and hugs her. The morning Rishita is in call with Dev. She says that she's worried as there's no news from him. Dev says to turns around and looks. Rishita does so. She gets elated on finding Dev standing. She runs to Dev and hugs him. She takes him inside saying that she has lot to tell him. She asks if he saw her on tv. Dev nods no. Rishita says that it's good he hasn't seen her. She was the runner up while Shiva the winner. Pandyas organized a party to celebrate and she attended it, but like always something happened. She says that it's her mistake, she shouldn't have listened to anyone. She felt guilty and tried apologize, but nobody allowed her. Dev hugs Rishita to calm her down. He asks if she missed her. Rishita says that she missed him very much. Dev and Rishita say I love you to each other. Dev asks if everyone fines jn the house. Rishita says about Gautam's accident. Dev gets worried and wants to meet him immediately. Rishita says that she already visited him. She asks Dev to go. Dev thanks Rishita for taking care of his family in his absence and leaves.
At Pandya house Gautam discuss with the contractor and finalize a new design for Pandya store. Gautam asks Shiva to give him advance. Gautam sees Shiva and Raavi looking at each other. Gautam asks Shiva if he herad what he said. Shiva and Raavi look nervous.Raavi says to Gautam that they can't given more than 10℅ as advance. Janardan and Kamini discuss about Pandyas finalizing a new design for their shop. Janardan says that he will ruin their dream. Kamini asks what's running in his mind. Just then Dev comes there and hears their talk. On knowing this Janardan says that he met the contractor, he said that Pandyas wants to extend their shop which is good, but if they got permission from the municipality for that. Kamini looks confused. Janardan signs Dev. The latter leaves.
Gautam tells the contractor to got all the necessary things and start the work. Dhara signs Raavi. The latter gives tea to Shiva. They both smile looking at each other. Gautam says again to Shiva to pay the contractor the advance. He will take the contractor to give the 10℅ advance. There Janardan says that Dev will go to Pandyas and will tell them to stop the work and take municipality's permission first, but due to the bitterness in the relation, Shiva will never agree to this. Kamini agrees that Shiva will build the shop. Janardan says that then the municipality will take action. He won't let Pandyas realize his dream until he is alive.
Raavi assures Dhara that she will handle the shop in Shiva's absence. Just then Dev comes there. Gautam and Dhara smile on seeing him. Dev runs to Dev and hugs him. Gautam asks when he returned. Dev says that he just arrived. He asks Gautam how he is. Gautam says that he will be better as he returned. Dev thinks of not troubling Gautam by telling about the permission. He decides to talk to Shiva directly. Dev take a Dhara's blessings. Dhara apologizes to Shiva for locking him up in the godown. She justifies that she couldn't stop after overhearing his father-in-law's talk. She says that they can't change whatever happened. Dev hugs Dhara. He says that he should apologize to them as he is staying away from them. Dhara says that he doesn't need to apologize. Dhara says that they're sad that he isn't staying with them, but she understands that Rishita and their child needs him the most. Dev thanks her for understanding it. Dev takes their leave.
Dev comes to the shop to meet Shiva. The latter pretends to be busy on seeing Dev to avoid him. Dev says that he already started the work for his new shop. Shiva asks if he is jealous. Dev suggests Shiva to take government's permission before starting the new shop work so that they don't face any problem in the future. He congratulates Shiva for winning the competition. He tries to hug Shiva, but the latter stops Dev. Shiva says that Dev is jealous so he is trying to scare him. He says to Dev to mind his own business. Dev says that it's his duty to make him understand. He says to not come to him if there's any trouble in the future. Shiva says to Dev to leave. Dev leaves. Shiva tells the contractor to speed up the construction work. He says that the work should be perfect and asks to find out about the municipality permission.
Shiva is looking after the construction work of the shop. Municipality officers arrive there. One of them tells Janardan over phone that they started his work. The officers stop the shop work saying that he didn't take permission from government. Shiva tries to explain them. They didn't listen to Shiva. Their men demolish the new wall build by Pandyas. Shiva looks on sad. Rishita watches this from her shop and is shocked. The name board is about to fall down. Shiva and Dev hold it. They glare at the officers.
The episode ends.
Precap: Kamini and Janardan plots against Pandyas. Rishita accuses Dhara of deliberately mixing cardamon in the food despite knowing she is allergic to it. She says that Dhara is jealous of her baby.
Click to read