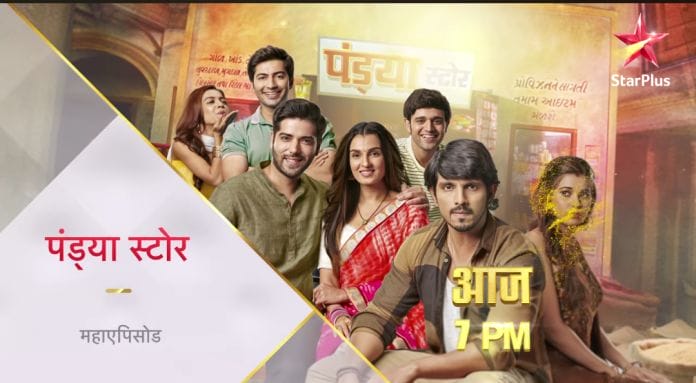 Pandya Store 10th November 2022 Written Update on TellyExpress.com
The episode starts with Raavi fainting. Dhara and Rishita get worried about Raavi. Rishita gets water. They sprinkle water on Raavi's face. Raavi gains consciousness. Raavi thinks that she fainted due to the tiredness. Krish is playing carroom with his friends. His friends mock Shiva for marrying the mother of a baby and badmouths Shweta. Krish becomes angry and beats them. A man separates Krish and his friends and asks Krish to go home.
Dhara asks Raavi how she's feeling. Dhara says that she's not fine. She has dizziness and a nauseous feeling even in Mumbai. She is scared. Krish returns home and washes his face. Shweta sees Krish. Seeing his torn shirt and injury, she understands that Krish fought with someone. But she goes to check on Raavi first. Rishita notices Krish's injury and asks him to sit in her room with Chutki. She goes to get the first aid box.
Raavi says to Dhara that her period is delayed by a week. Dhara becomes happy, thinking that Raavi is pregnant. She hugs Raavi feeling emotional. She says to Raavi that she's pregnant and having the symptoms of pregnancy. Dhara decides to take Raavi's test to confirm this news. Raavi says that she can't be pregnant as she and Shiva haven't come close for a month. Shweta eavesdrops on Dhara and Raavi's talk.
There, Rishita treats Krish's wounds. Rishita asks Krish, with whom he fought. Krish says that he doesn't know how to move on with Shweta in their marriage. Here, Dhara says to Raavi that in the early days of pregnancy there can be spotting and gives an example of her case. She asks Raavi to see a gynecologist and confirm the pregnancy. Raavi refuses by stating that Shiva will create a scene if he knows this. Dhara recalls Shweta saying that Shiva doubts Raavi. Dhara gets worried and says that she's tired of explaining to Shiva. Dhara notices Shweta standing at the doorstep. Dhara asks Shweta to leave. Shweta says that she heard their whole conversation, which shocks Dhara and Raavi.
There, Krish says that their area people make fun of him about him marrying Shweta, who is a mother of a child. He asks if love happens only once. Rishita asks Krish if he loves Shweta. Here, Dhara scolds Shweta for eavesdropping on their talk. She warns Shweta not to tell anyone in the family before they tell. Shweta offers to help them and says that she will get a pregnancy kit without anyone in the family knowing. Dhara recalls Rishita's words and stops Shweta. There, Rishita says to Krish that she can't help him much in this matter. She says that in her case, she risked everything to marry Dev and she's ready to do it, but every relationship can't be the same. Krish thanks Rishita and leaves.
Here, Dhara threatens Shweta to throw her out of the house if anyone in the family knows about this before they tell them. She adds that while throwing her out of the house, she will forget her love for Chiku. She says that Shiva and Raavi's relationship is going through a delicate phase and their small mistake can end their relationship. So Dhara asks Shweta to think before doing anything. Shweta makes a fake promise that she won't do anything that will break their relationship. She leaves. She thinks that she won't do anything since Rishita will do it. Dhara assures Raavi that they will clear the doubts by seeing a good gynecologist.
Krish goes to the Pandya store. Krish says to Shiva that Raavi has returned home and asks him to go home. Shiva says that he has work in the shop and will meet her later. Shiva then takes his bike key from Krish and says that she's going to meet his friends. At Pandya's house, Shweta got the pregnancy kit. She wonders how to make Rishita see this. She drops the kit, getting scared when Dhara suddenly enters the room.
The episode ends.
Precap: Dhara asks in the hospital reception which form she should sign for her sister-in-law's fibroid removal surgery. Shweta is also there in the hospital. Suman and Kanta arrive at that hospital. Suman spots Shweta. Shweta is in a nurse's disguise and asks a doctor to change Raavi's report. The doctor performs Raavi's operation.
Click to read