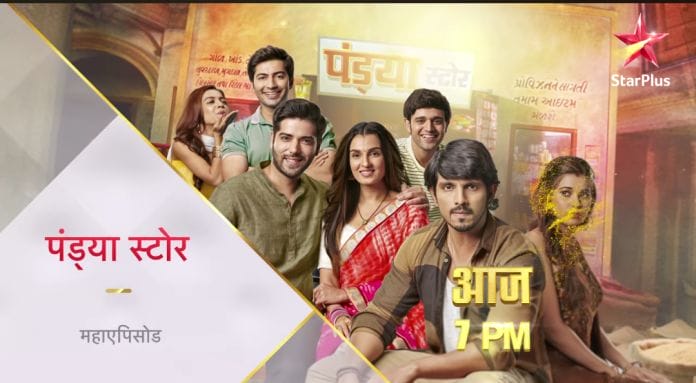 Pandya Store 11th August 2022 Written Update on TellyExpress.com
The episode starts with the car in which Raavi is traveling breaking down all of the sudden on the way to home. She scolds the driver. He advises her to go home by walk. Raavi tries to stop an auto, but he doesn't stop. She sees that her phone has no battery and gets irritated.
At Pandya house all gathered in the dinner table. Rishita says that Raavi hasn't returned home yet and asks Shiva about Raavi. Shiva says that he doesn't. Shiva says that she must be busy hosting big event on TV, so she won't have time to call. Rishita says that he is right, she doesn't remember about to the family who is waiting for her. She says that they would have created a scene if she had done the same. Just then Raavi returns home and sits with them on dinner table. Raavi asks Shiva to get a class of water for her as she is very tired which shocks all. Dhara says that she will get the water. Shiva says that he will get water for Raavi and taunts her.
Raavi shouts enough. Suman scolds Raavi for ordering her son and then showing her anger on him. Rishita supports Raavi and says that Shiva triggered her anger. She says that couple should support each other by helping each other, even Dev and her do each other works. She justifies Raavi asking Shiva water stating that poor Raavi returned home tired after her work.
Suman says that it's not her tiredness, but her money is speaking. She stops Shiva from giving water to Raavi. At Sweta's house, her mom asks Sweta to watch Raavi's video to boost her mood. Sweta says that she will see and asks her to get water for her. Here Suman rebukes Raavi for asking water to Shiva.
Dhara says that Raavi is tired and what's wrong if Shiva gets her water. Rishita says that it's not a big matter for a woman, but it's big issue for a son's mother. Dev says to Rishita to be quiet. Rishita continues to speak. She asks Dhara if she will react like Suman if in the future Chikku's wife asks him to get water. Dhara says that she will never react like this. There Sweta watches Raavi's video with Chikku. She recognizes her baby.
Here Dhara says that she doesn't know if Chikku will become her son in the future, but these three are her sons and she always taught them that a person isn't defined by the work they do. She adds that they have helped her in household from their childhood. Suman blames Dhara for Rishita and Raavi ordering her sons. Rishita says that no one will order her sons hereafter. She taunts Shiva that he can get anklets for Raavi out of love, but can't get water for her. Dev asks Rishita to go to her room. Rishita complains that they all are old fashioned in this house and leaves.
There Sweta cries and apologizes to her baby for abandoning him. She says that she didn't have any other option. She says that God is with him so he landed in the hand of a good woman who loves him so much. Sweta's mom come to her and asks her what happened, if she didn't like the video. Sweta makes an excuse and goes out. Her mother sees the video and recognizes that locked the baby is wearing is made by Sweta's dad for Sweta. She says that Sweta was in Somnaath and Raavi is also from Somnaath, this means this baby is Sweta's.
Suman says that Raavi didn't ask Shiva to get water before she starts earning. She condemns her act and leaves. Shiva angrily puts the glass on the table. The water splashes on Raavi's face. Shiva angrily walks away ignoring Dhara. Raavi feels bad and leaves. Gautam blames Shiva and his male ego for the fight. Raavi denies it and says that something else is bothering him.
Raavi comes to her room and finds Shiva laughing seeing her videos. Raavi asks if he can watch her videos why he can't get a glass of water himself. Shiva says that her way of asking was wrong. Raavi tells all the difficulties she faced before reaching home.
Shiva says that she only think herself and says that he also works all day, but she didn't ask about him. He says that she's not anymore the same Raavi, who calls him often and tells what she's doing, but nowadays she doesn't share anything with him. He says that before she used to take his help when she was in trouble. Raavi says that asked him for water, but he took revenge on her for all their previous fights. She says that there's only fight left between them. Shiva argues with Raavi for lying to him about her shoot and not telling about the guy with whom she shoot. He refuses to even drink tea from her hand stating it will hurt his male ego. Dhara hears their fight and gets worried. She thinks of doing something.
The episode ends.
Precap: Raavi apologizes to Shiva for asking water. She asks him to put apart his ego and enjoy in the party. Shiva argues with Raavi. Later in the party Suman asks Shiva why he didn't wear any good shirt. A guest taunts Shiva saying Raavi is the party's star and not Shiva and he is famous because of her. Shiva angrily leaves the party. Pandyas get worried.
The episode starts with Gautam finding Dhara and trying to contact Dhara. Dev, Shiva and Krish come to Gautam along with Dhara. Gautam hugs them and says that he has belief that they will come and won't leave him and Dhara alone. The brothers get disappointed that they will leave them alone. Gautam denies it and hugs them saying that they're his life.
Some ladies fool Suman that they saw Dhara and takes money from her. There Dev asks Dhara where she has gone. He says that they are able to find her due to the video posted by Raavi on the social media. Gautam scolds Dhara for leaving with the baby. He says that he is mad at her. Dhara apologizes to Gautam.
Pandya brothers return home along with Dhara. Rishita hugs Dhara and asks if she's and Chikku are fine. She says to let go inside. But Suman asks Dhara to stand there. Dhara seeks Suman apologizes and swears on Suman that she won't do it again. Suman asks her to not give fake swear on her name. Suman asks Raavi to bring aarti plate. Raavi obliges and does Dhara's aarti. Raavi pampers the baby and says that she missed him. Suman asks Raavi to give her the baby. Rishita says to let go inside as the punishment is over.
Click to read