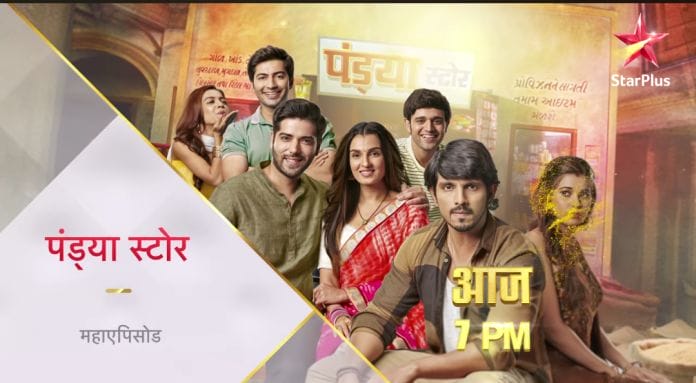 Pandya Store 11th May 2022 Written Update on TellyExpress.com
The episode starts with Dev and Shiva warning the officer to not touch the shop name board. Dhara, Raavi and Rishita stand in front of the shop. Dev scolds Shiva for not listening to him and get the permission. The officer says to lock and key to shut the door. Dev and Shiva oppose it. The officer threatens to shut Dev's shop as well. Rishita says to Dev to come.Rishita walks to her shop.
Janardan gets a call and learns that Dev is opposing the officer from shutting Pandya Store. He gets angry. The officer locks up the shop. He says to the Pandyas that they fail to fill a simple form to get permission, but they are showing attitude. Dev says to the officer to not get angry, they will get the permission. He says that they did wrong with their shop. The officer says to take their stffs from municipal office after paying the fine of 30 thousands. They leave. Dev promises Dhara that the shop won't be shut for longtime.
Rishita asks Dev why they shut the shop. Dev says that they didn't get the permission to build the new floor and officers were right in their place. Rishita asks will ask what Shiva will do now, if he has any plan. Dev says that the shop will be shut until they get permission. Rishita says to Dev to not get involved in this matter as the officer threatened to shut their shop too. Dev says that he won't let it happen.
Dev is filling the permission form for Pandya shop. Kamini comes to him. Dev sees her and closes the laptop. Kamini says that she knows his filling the form. She says that he is doing so much to his family despite what all happened. Dev says that he got to know what she did in Shiva's party, after that it's better if she knows less about them. The next day morning Dhara and Raavi are working in the kitchen. Dhara remembers Rishita and cries. Raavi asks why she's crying. Dhara says that Rishita always stood with them during their tough time, she came and stood with them when officers came to shut their shop forgetting her shop and she's pregnancy. Dhara says that she misses Rishita.
At Janardan's house Kamini says to Rishita to have food and to not show her anger for Dev on food. Rishita says that no one care about her. Kamini says that Dev could be proved wrong for helping Pandyas going against all. Rishita says to let Dev decide and leaves getting angry. At Pandya house Dhara says that she misses Rishita while packing her favorite food. She prays to God to make everything fine. Just then Dev comes home and calls out family. He says to Dhara that he got permission for the construction of the first floor. Dhara hugs Dev happily.
Gautam and Shiva come back home. Dhara tells them about Dev getting the permission for shop construction. Gautam gets happy too. Dev gives the permission letter to Shiva and says to get back the shop stuffs and key from municipal office. Shiva says that Dev did good job. Dev says to Shiva to say the same in loving way. Dev and Shiva argue. Dhara interrupts and requests Dev to take to Rishita the Dhokla and Khandvi that she made. Dev agrees. He takes their leave.
Rishita eats the food sent by Dhara saying it's her favorite. Dev says that it was sent by Dhara. Rishita stops eating. She says that Dhara gave this as Dev helped them to open the shop. Dev suggests returning to Pandya house. Rishita says that she doesn't have problem with them. But she has been financially independent after leaving that house. She doesn't want to lose it. Rishita says that she doesn't trust of their families. She just wants to think about themselves and their baby.
Dhara and Raavi handling the shop business while Shiva doing the construction work. Dev happily looks at it while Rishita looks on worried as there is no customer in their shop. In the night Dhara asks Gautam about returning to the shop. Gautam says that he won't return to the store else Shiva won't learn anything. He is happy that he is learning to run the shop, so he decided to stay back. Dhara says that Gautam should go to the store and Shiva need him. Shiva hears their talk.
The next day morning Pandyas perform the inauguration of their altered shore. The brothers draw swastik symbol on the wall and leave their hand prints. The ladies watch them smiling. The brothers share a group hug. Dhara has bought things for Rishita's baby. She shows them Raavi. She says to Raavi to come along with her to give them to Rishita. Raavi says that they can go later as she has some work in the store. Shiva and Gautam come to them. Gautam says that Shiva's mind is also growing along with their shop. They leave for the shop.
Rishita and Dev are in their shop. Rishita sees that there are lot customers in Pandyas shop. She says to Dev that he helped them and they are going ahead of them. She says that he created his own competitor. Dev says that they sell branded products while they local handmade products. So there's no competition between them. She asks then why their customers are reducing day by day. He says that the problem is in their strategy. They have to find it.
The episode ends.
Click to read