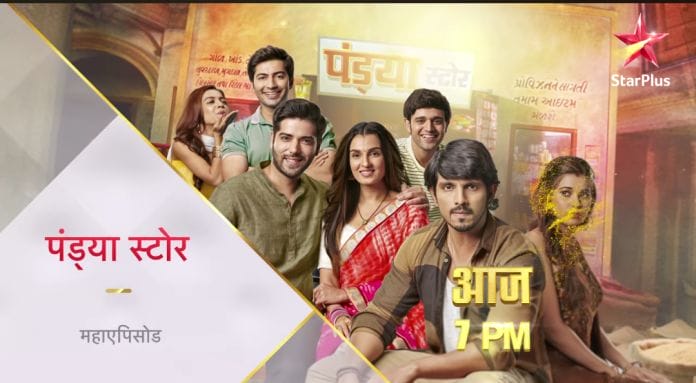 Pandya Store 12th November 2022 Written Update on TellyExpress.com
The episode starts with the doctor saying to Dhara that there's a fibroid in Raavi's uterus which should be removed soon as it's risky for Raavi's life. Dhara is shocked and asks how Raavi can be operated on as she's pregnant. The doctor says that Raavi isn't pregnant. Raavi is happy to hear this, while Dhara is stunned. She says that a junior doctor of this hospital checked Raavi's blood report and said that she's pregnant.
The doctor asks Dhara if she is sure that he is a doctor. Meanwhile, Nithin tells Shweta that Dhara isn't as stupid as Shweta said. She took Raavi for an ultrasound test. They know that Raavi isn't pregnant and will also say the same. Shweta says that Dhara is very smart. Here, the doctor asks Dhara the junior doctor's name. Dhara doesn't know. The doctor asks Dhara to call them as soon as she spots him. He asks Dhara to fill out the form at the reception for the operation. Raavi asks Dhara to call Krish for help.
Shweta and Nithin hear, hiding, the doctor asking the nurse to prepare the operation theatre for fibroid removal. He checks Raavi's blood report and says that it's not written that she's pregnant and asks the nurse which doctor did her check. The nurse says that she doesn't know. Shweta asks Nithin to get Raavi's report of having fibroid. She will handle the remaining work. Nithin agrees. Shweta and Nithin hide to see Dhara.
Dhara goes to the reception and asks about filling out the operation form for the fibroid removal. The receptionist asks where Raavi's husband is to sign the operation form. Dhara says that she's Raavi's daughter-in-law and asks if she can't sign. The receptionist says that she can sign but it would be better if her husband signed the form. Dhara decides to phone Shiva. She realises that she forgot her phone at home. She tries to call from the landline, but she doesn't remember the number due to the tension. Dhara fills the form with a lot of difficulty as her hand is shivering.
Shweta and Nithin watch this hiding. Shweta smirks and says that Dhara is signing her death certificate. Nithin reminds Shweta that he is helping her as they had a deal. He refuses to risk his job by going in front of Dhara. Shweta asks where the IT room is to make a fake form which Nithin can replace with Raavi's fibroid test report. Nithin tells her the IT room directions. Shweta leaves. Suman and Kanta enter the hospital with the pregnant girl who is having labor pain. Suman sees Shweta in the hospital and wonders what she's doing here.
Suman is asked to pay the hospital fee to treat the delivery of the girl whom she brought. Suman gives the receptionist the number that girl gave. The receptionist phones that number. But the number turns out to be the wrong number. So, Suman phones Gautam. She explains to him the situation and asks Gautam to find that girl's husband. There, Gautam tells his brothers about Suman taking a pregnant girl whom she met in the park to the hospital for her delivery and wanting them to find her husband. The Pandya brothers go to find the girl's husband.
At the hospital, Raavi is lying unconscious. The doctor gets ready to operate on her. On the other hand, Rishita is alone at home. She is feeding Chutki. She wonders where Dhara and Raavi have gone. Just then, Chiku cries. Rishita goes to check on Chiku, taking Chutki along with her. She saves Chiku from falling from the cradle. She puts Chiku and Chutki on the bed. She goes to get milk for Chiku, who is crying as he is hungry. The Pandya brothers are trying to find the girl's husband. Rishita gets the milk and feeds Chutki.
At the hospital, Dhara scolds herself for not remembering her husband's phone number. She prays to God for Raavi. Krish sees a shop and says to his brother that pregnant women should visit shops. He goes to the shop and enquires about how many pregnant women visit their shop. They misunderstand Krish for a child's thief and start to beat him. Gautam intervenes and explains to them that their mom met a girl who is pregnant in the nearby park and rushed her to the hospital for delivery and they are finding her husband. They agree to give the address of the pregnant women who visit their shop. In Pandya's house, Rishita sees the pregnancy kit in Shweta's room. She wonders whom Shweta got this for. She thinks that maybe she got this for her. She decides to find out what the matter is exactly.
The episode ends.
Precap: Shweta and Nithin exchange Raavi's report with a fake report. Dhara hears Suman's voice in the hospital and goes to find her. Rishita questions Shweta about the pregnancy kit.
Click to read