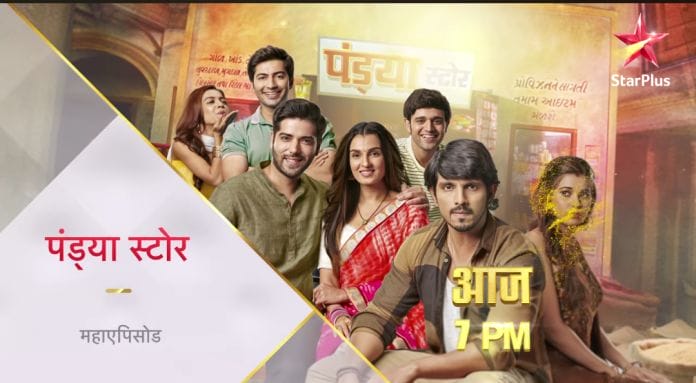 Pandya Store 12th September 2022 Written Update on TellyExpress.com
The episode starts with Rishita warning Shweta about taking advantage of Dhara's love for Chiku. Shweta says sorry. Rishita takes Dhara with her by saying that Chutki needs her. Raavi is worried that her edited photos haven't been deleted on the social media and Arnav isn't answering the call.
She's scared that the hacker will do something wrong again. Shiva reassures her and says that they will see this after celebrating Suman's birthday. Raavi says that it's another problem. She says to Shiva that all their party guests are connected to her on social media and Kanta's daughter-in-law will definitely question her.
She says that she doesn't want any scenes to happen at Suman's party. She wears a mask so that people don't question her. Shiva encourages Raavi. He says that she doesn't need to answer people's questions as it's their habit to point fingers at others. He says that he will answer them if they question her. He convinces her to remove her mask. Raavi obliges.
Suman is with Kanta. Suman laments that her family doesn't care about her. She has been at her house since the morning. They haven't come to find her, neither haven't they even bothered to call her. She says that Kanta gave her lunch to eat. Kanta thinks that Dhara gave lunch to Suman. Suman says that she will go to an old-age home.
Meanwhile, Pandyas are worried about why Suman hasn't returned home yet. Here, Kanta convinces Suman to return home and then calls Dhara to inform the same. Krish brings the cake. Shweta says that this cake will be the cause of Chiku's kidnapping and for her freedom. Dhara is about to go to take Suman. Just then, Suman gets here. The family turns off the lights and hides.
Suman wonders why there is no light in the house. Suddenly, lights come back and Pandyas shout surprise. They dance by singing happy birthday to you. Suman is overjoyed. Shweta uses this opportunity to inject sedatives into the cake. Shiva asks Suman how their surprise was. Suman thinks that she failed to find their surprise, but she pretends that she found their surprise morning itself by seeing Dhara and Raavi at the temple and has been acting.
Kanta tells that Suman was crying in the temple and wanted to go to an old-age home. The family is shocked to hear this. Everyone says how important Suman is for the family and for them. They apologize to them. Suman apologizes to them for not trusting them and wanting to go to an old-age home. They share a group hug. Shweta thinks of executing her plan.
Suman tells everyone how she celebrated her first birthday after her wedding with her husband. Shweta goes to meet her friend, taking Chiku. Arnav comes to Pandya's house to meet Raavi. Shweta discusses Chiku's kidnapping plan with her friend. Shweta returns to Pandya's house. Pandyas celebrate Suman's sweet 60th birthday. Dhara lights the candle on the cake. Suman makes a birthday wish. She wishes for her children's betterment. Shweta thinks that her plan will start once they eat the cake, then she will be free from Chiku and Pandya's family.
The episode ends.
Precap: Pandyas faint after eating the cake. Shweta gives Chiku to her friend. Later, Pandyas gain consciousness and realise that Chiku has been kidnapped.
Click to read: