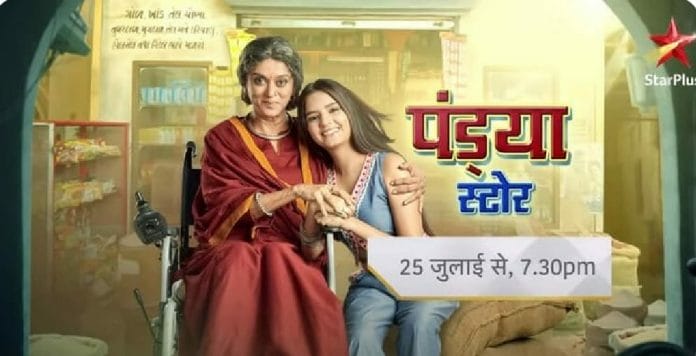 Pandya Store 13th November 2023 Written Update on TellyExpress.com
The episode starts with Natasha asking Amresh if she can come for interview next day again. Amresh lies that they already gave commitment to other candidate. Chirag asks when did they happen but Bhavin shuts him. Natasha picks up the sling bag and it's content and comes to room. She thinks about Amba and Amresh's reaction and says she needs to find what they are hiding from her. Dhawal comes there and questions Natasha why she always keeps questioning Amresh as whatever he does is for well being of the family. Natasha tells Dhawal why he is always tries to be Amresh's lawyer and this is her family too.
Dhawal pulls Natasha close and they argue again. Natasha asks Dhawal if he doesn't feel that she is suffering because of wrong accusations. The latter says he feels they should first understand each other better. Natasha's hair get stuck in the design on pillar. Dhawal helps to remove it and looks at Natasha lovingly while doing so. Natasha also keeps staring at Dhawal. Amba enters the room at same time and they feel awkward. Dhawal hurriedly leaves the room. Amba keeps looking at sling bag kept on table.
Natasha asks Amba about what she needs. Amba asks Natasha to show her the waist band she found in the sling bag. The latter questions Amba if she has hint about the person who it belongs too. Amba lies that she has no idea about it and leaves with Isha's waistband. Natasha thinks Amba looks very worried and feels she is hiding something. Natasha is about to follow Amba when Amresh stops her. He asks her what she did to make Amba cry. Natasha tells that she did not do anything and Amba got emotional seeing the waistband.
Natasha questions Amresh if he doesn't feel that he did wrong by letting the kidnapper go. Amresh instead questions her upbringing and scolds her for always disrespecting elders. Amresh comes to Amba and questions her if she is fine. Amba says that the waistband she had made her wear and requests Amresh to bring her back. Amresh asks her if she remembers what she did and she has returned back to take revenge which she could not complete three years back. He asks Amba to become strong as she will never come back to the house.
Amresh tells Amba to give her photo and he will send it to police. But Amba stops him and says it will bring disrespect for family. Amresh says he will find her himself then. Dhawal and Natasha have argument as Dhawal spoils her ironed clothes. She warns him to iron again or she will spill water on him. Dhawal thinks he doesn't even know to use the iron and ends up burning it. He makes her wear earrings to stop her from seeing it. Amba takes out Isha's photo from album and cries seeing it. Hetal asks Pranali and Natasha to come for Diwali shopping. She asks Dhawal to come along too as driver is on leave. Amba gives photo to Amresh and latter says he will give it to detective and find her. The episode ends with Natasha overhearing their conversation.
Precap Natasha will catch Isha and question her about her relationship with Makwanas and reason behind her kidnapping Golu. Isha will ask Natasha to question her husband instead.
Click to read