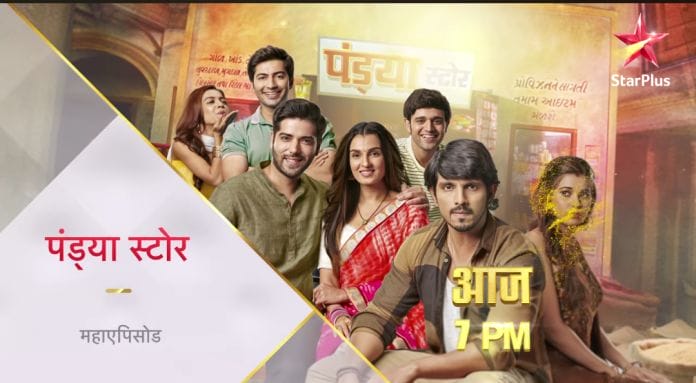 Pandya Store 13th September 2022 Written Update on TellyExpress.com
The episode starts with Pandyas gifting a gold chain to Suman. The latter asks if they have taken money from her locker to buy it. Gautam assures Suman that they bought it together with their own money. Suman gets elated. Gautam makes her wear it. Dhara asks Shweta to distribute the cake to the guests. Rishita reminds Dhara that Shweta is their guest, who is going to leave their house soon. She distributes the cake.
Raavi gets shocked when Arnab arrives there. She thinks that she will land in trouble if her family sees him. She takes him outside to talk. Shiva notices that Raavi is missing and goes to find her. Meanwhile, Raavi says to Arnab that her family doesn't know that she is getting his help. She says that they can talk the next day and urges him to leave. Inside the house, Shweta's friend, who is disguised as a dancer, dances.
Pandyas join them. Shiva comes out of the house and finds Raavi talking with Arnab. On the other hand, Pandyas start to feel dizzy. They faint. Arnab says to Raavi that they can meet the next day and have breakfast and lunch together. Shiva feels dizzy and he also faints. Shweta gives Chiku to her friend. Her friend leaves, taking Chiku along with her. Raavi is busy talking with Arnab, so she misses seeing them.
Shweta's friend is on the way in the auto. Shweta phones her friend and says that she has arranged everything that Chiku needs in the farm house. She adds that she had food in her bag for Chiku. She says that she can't compromise with Chiku's health since he's her child and reminds her that Dhara won't be there. She hopes that her friend will reach out of the city before Pandyas gain consciousness. Shweta hears Chutki crying and remembers that she didn't think about her. She hangs the call. She tries to calm Chutki down.
Raavi finds Shiva unconscious. She wonders what Shiva is doing here. She tries to wake him up. She gets worried about Shiva when he doesn't wake up. Shweta notices that Raavi didn't faint and gets scared that she might spoil her plan. She places Chutki on the floor and pretends to faint.
Hearing Chutki's crying sounds, Raavi comes inside the house and is shocked to find the whole family unconscious. She tries to wake up everyone. Shweta thinks that she's a fool to miss Raavi. The latter realizes that Chiku's missing. She calls the police and says that her family members are unconscious and a five-month-old baby is missing. She then says that her account on social media got hacked a few days before and they complained on the cybercell. She doubts that the hacker might have learned this and attacked her family.
The inspector assures Raavi that they're coming and they will alert the check posts so that the kidnappers don't escape. Shweta alerts her friend by texting her about it. Raavi cries and tries to wake up everyone. Arnab comes again. He tries to reassure Raavi. Police arrive there. The inspector says to Raavi to not worry as they have come with a doctor and an ambulance. He asks for Chiku's photo.
Raavi gives it to him. Raavi tries to wake Shiva up. She hugs him and says that she loves him when he gains consciousness. The doctor asks Raavi what happened. Raavi says that they were celebrating Suman' s birthday. She went out for a while. They were unconscious when she came back. The doctor says that they have to bring them all to consciousness first, then they will take their blood samples. Shweta worries that the doctor won't find drugs in her blood.
The episode ends.
Precap: Pandyas gain consciousness. Dhara asks where Chiku is. Rishita says that Shweta didn't give her blood sample to the doctor. She says that she will call the doctor to take her blood sample.
Click to read