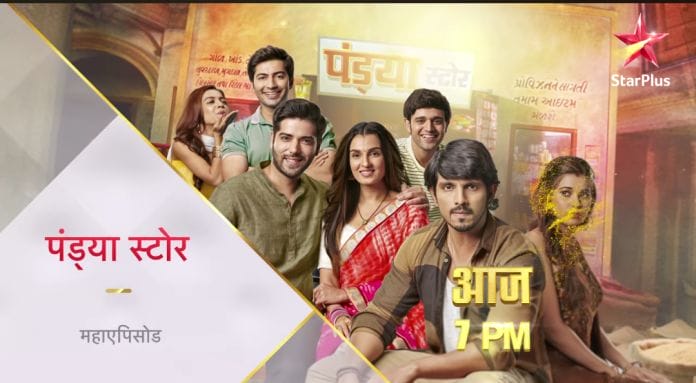 Pandya Store 14th January 2023 Written Update on TellyExpress.com
The episode starts with Pandyas getting overjoyed when Rishta shows the Pandya Store documents. The brothers share a hug. Dhara hugs Rishita. Dhara says that they should reach the shop before Shweta demolishes it. Pandyas leave. Shweta drives a bulldozer and is about to demolish the Pandya Store. But Pandyas arrive there in another bulldozer and stops Shweta. Dhara says to Shweta that Pandya Store, Pandya house and Suman's 25 lakhs are theirs now, as she had told her earlier. Krish says that even Chiku is theirs now. Shweta is shocked to hear this. Krish says that Shweta forgot about Krish. Shweta says that Pandyas cheated her. Pandyas laugh at Shweta. Suman taunts Shweta by stating Shweta is the biggest cheater. Dhara asks Shweta to get out of the bulldozer. Dhara forcibly drags Shweta out of the bulldozer. Rishita cheers for Dhara. The Pandyas clap hands and celebrate their victory against Shweta.
Suman scolds Shweta and asks her to apologize to them. Shweta refuses to apologize to cheaters like them. Pandyas mocks Shweta. Suman says that she will punish Shweta. Suman asks Gautam for the rope. Gautam gives it to Suman. She gives one end of the rope to Dhara and another one to Rishita. Suman orders them to tie up Shweta's hands and legs with that rope. They oblige. Rishita claps and asks the others to do the same. Suman says to Shweta that they tied her hands and legs to teach her that hands and kegs are there to help people and not to do wrongdoing. Suman asks Shweta to return to her home like that. Dhara says that Shweta doesn't have a house. She says that she has to spend her rest of life on the roads hereafter. Shweta warns the Pandyas that they will regret it as she hasn't lost yet. Suman asks Dev to get the sweets. Dhara forcibly feeds the sweets to Shweta. Dhara counts till three and asks her to leave. Suman signs Krish. The latter gets a stick and makes the board with Shweta's name fall. Rishita remembers how Shweta walked over the board with Pandyas name. She walks towards the board and stands on it. Krish also does the same. Krish says that Shweta's arrogance also got crushed along with her nameboard. Krish asks Shweta to leave and show her face again. Suman mocks Shweta by saying that she and her nameboard are both on the road. They mock Shweta and ask her to leave. Shweta walks away with a lot of difficulty.
Pandyas dance and celebrate their victory. Dhara notices Shiva, who is holding his head. Krish asks Dhara to dance. Dhara says that she will dance once Shiva gets well. Shiva says to Dhara that it's time to celebrate. He asks Dhara to make different dishes and asks Krish to get kites. Dhara says that they will celebrate makar sankranti. Dhara asks Gautam to phone the hospital and fix Shiva's appointment. Raavi taunts Dhara by saying that finally she remembers Shiva's condition. She thought that she would remember it after the celebration. Raavi phones the hospital and learns that the doctor is on leave. Raavi tells the Pandyas the same. They grow worried that Shiva's operation is getting delayed.
The episode ends.
Precap: A boy writes letters to Dev-Rishita, Shiva-Raavi and Krish asking them to return home as Suman is unwell. They all are in different places.They tear the letters refusing to return. Dhara asks Suman to act that she's dead. Suman obliges. A boy shows welcoming two kids inside the Pandya house.
Click to read