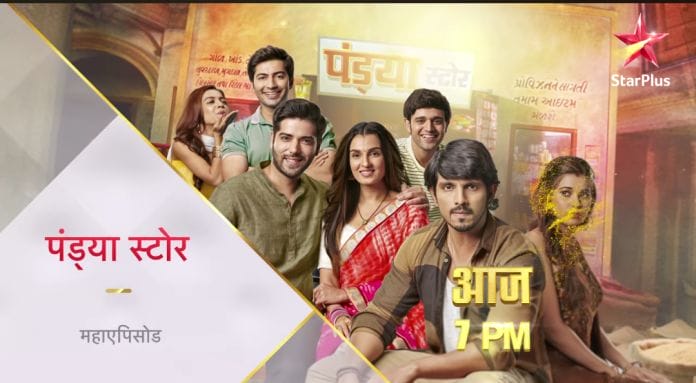 Pandya Store 14th July 2022 Written Update on TellyExpress.com
The episode starts with Dhara scolding Dev and Shiva blaming them. Rishita says that even Dhara has AC in her room. Dhara claims that unlike them she turns off turns of the AC of her room. Suman asks them to fix a separate meter in their room to know their electricity consumption.
She asks Dhara to look at her own mistakes before pointing it at others. She asks how much bill they used to get. Dhara says that 1000-1500. Suman says that they did big achievement by reaching from 1500 to 15000. She asks them to pay the electricity bill by themselves shocking all.
Dhara admits that they have done mistake and requests Suman to pay the bill this time and promises to make sure that all AC and geyser wil be turned off. Suman agrees to pay the bill this time, but decides to punish them before that. She asks Krish to turn off the house electricity for a while. Then he asks all of them to stand by lifting their both hands up and a leg. They all Rishita asks if she has to do the punishment too.
Suman says no as she's pregnant and asks to check if they all are doing their punishment correctly. Rishita obliges. Krish turns off the main switch and comes back. Suman asks him to stand him like that. He obliges. She makes all of them repeat that they will save the electricity. After a while she asks them to stand normally. She warns them and says that she won't pay the electricity bill if it comes above 2000.
Raavi notices that she forgot to turn off the live and their family drama went live. She notices that her followers increased to 5000 and gets happy. She worries that Krish and Rishita may get to know this and block them. Raavi thanks Suman and leaves. Shiva gets suspicious and thinks of finding what the matter is. Rishita asks Krish what he wanted to tell her. Krish says that he will tell her later as he is getting late for college. He leaves.
At the store a customer asks Devwhy there's no any discount in their store when they give discount in their opposite store. Dev says that it's not their store anymore. The customer asks but the store name is same.
Dev argues with Janardan for using their name board. Janardan refuses to remove it. Gautam and Shiva also arrive there. Dev and Shiva try to destroy the board. Gautam stops them. Janardan encourages them to do so and starts recording their video to show in the police station as proof. Gautam calms down Shiva and Dev.
Dev suggests buying Janardan's store and asks Gautam to talk to Suman. Shiva says that they can buy the store with their own money by saving from the profit of their store. Gautam also say the same to Dev. Dhara who arrived at the store hears this. Dhara takes Gautam apart to talk.
Other hand two boys recognizes Raavi as the same girl who completed the punishment in the live. They tell Raavi that her video went viral and requests to take a selfie with her. Raavi agrees. The vegetables vendor also offers to give her discount if she takes a selfie with him. Raavi agrees. She gets happy that she's getting famous.
Dhara says to Gautam that Dev was right and tries to convince Gautam to invest money to buy a land and build a new store to fulfill dad's dream instead of keeping the money at home. Gautam and Dhara get into an argument over this. Gautam asks Dhara why she wants to compete with Suman. Meanwhile Krish gifts Kirti a necklace and makes her wear it around her neck. He doesn't tell her the price when she asks and thinks that he ordered from a local site. Kirti asks if he talked to Rishita about them. Krish says not yet and decides to talk that day.
The episode ends.
Precap: Krish says to Rishita that he loves Kriti. Rishita gets angry and scolds Krish. She brings Krish to Suman and tells that Krish told her that he loves Kriti and asks him to tell it Suman. Krish says that no matter what, he will marry only Kriti. Dhara asks Krish that she already asked him if anything is going between him and Kriti Rishita shouts at Dhara for not stopping Krish despite knowing the truth.
Click to read