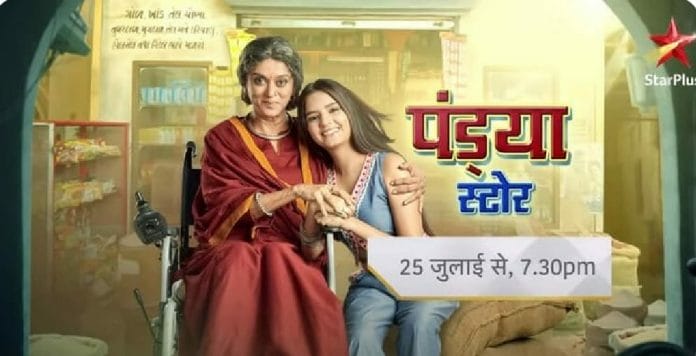 Pandya Store 14th November 2023 Written Update on TellyExpress.com
The episode starts with Amresh getting Isha's photo from Amba to find her. Natasha comes to Amba after Amresh leaves and says her that Hetal is calling her for Diwali shopping. Amba tries to deny to go but Hetal comes there too and requests her so she finally agrees. Suman waits for Meethu to bring taxi to go for shopping and Chiku asks her if they should leave Isha alone at home. Amresh talks to the photo and says how long will she hide from him. Isha brings her luggage and tells Suman that she doesn't want to be burden on them.
Suman requests Isha to stay with them and celebrate Diwali with them. Isha agrees to stay but doesn't want to come for Diwali shopping however she agrees when Suman insists a lot. Chiku keeps looking at Isha. He smiles seeing her too. Suman says Isha to choose something for herself then they will buy for Natasha's in laws. Suman sees Chiku choosing dress for Isha and teases her. Coincidentally Natasha and her in laws also come there for Diwali shopping. Suman requests Amba to choose something but the latter says her to gift whatever they want and moves ahead for shopping.
Suman asks Natasha if Amba is fine as she left without taunting. She gives Natasha a dress she has selected for her and tells her to try it. Natasha requests her not to spend but she insists. Isha is in one changing rooms and Natasha goes to the other. Hetal tells Dhawal to go and hand a suit to Natasha. Natasha and Isha respectively try their Diwali suits. Natasha struggles to wear it as it's smaller size. Dhawal says Natasha that Hetal sent clothes for her to try. He says he will keep it and leave.
Natasha requests Dhawal to enter changing room and help her as her dress is stuck. When Dhawal closes his eyes and enters inside, Isha comes out of room and misses to see him. She even passes by Makwana but miss to see each other. Dhawal and Natasha both close eyes. He helps Natasha and she gets close to him. Rang lagya Isha ka plays as Dhawal helps to remove the suit that has stuck. He teases Natasha by saying if he should open the eyes. Natasha stops him and quickly changes back to her suit. Lots of ladies gather outside changing room and Dhawal feels embarrassed to go out.
Natasha peeks outside and sees lot of crowd outside. Hetal teases Natasha when she says about being stuck in changing room with Dhawal. Everyone laughs at Natasha and Dhawal when they come outside together. Isha notices Amba and says Suman that she will go outside for a while and leaves hurriedly. Amba notices Isha too as she is removing her dress that got stuck in pillar. Amba feels emotional and the episode ends with her looking at Isha.
Precap Natasha and Isha will be at a cliff and Natasha will ask the latter to answer what her relationship is with Makwana family and why she wanted to kidnap Golu. Isha will ask her to go and question her husband instead.
Click to read