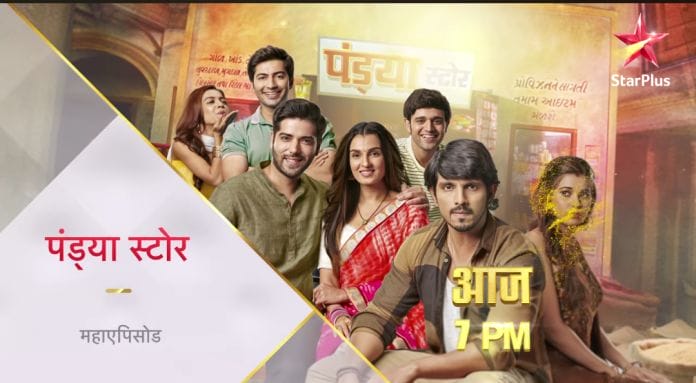 Pandya Store 14th September 2022 Written Update on TellyExpress.com
The episode starts with Arnab saying to the inspector that it couldn't be the act of the hacker, since he hadn't caught him yet. Someone else did it. On the other hand, Shweta's friend manages to cross a police checkpoint by lying that she's taking home the baby after a doctor's checkup. Here Pandyas and the guest gain consciousness. Rishita takes Chutki from Raavi. Shweta looks tensed seeing everyone's blood sample has been taken. Rishita asks what happened. Raavi says that they were all unconscious when she found them.
Rishita asks if she was in her senses. Raavi says no. Dhara asks where Chiku is. They all look for Chiku. A nurse is about to take Shweta's blood sample. Shweta pushes her. She asks Raavi where Chiku is and starts to make her drama. Raavi says that Chiku wasn't there when she arrived. The inspector says to Shweta that they are looking for Chiku. He asks Shweta to give her blood sample. Shweta tries to run away on the pretext of finding Chiku by herself. Police stop her. Rishita gets suspicious of Shweta's actions.
Dhara shouts at Raavi for not checking in the whole house for Chiku. She goes to check.
The inspector asks what the whole family ate except Raavi, which caused their dizziness. Raavi says that she didn't eat the cake. Suman asks why she didn't eat her sweet 60th birthday cake. Raavi says that she went to meet Arnab. Suman asks who Arnab is. Shiva lies that he is the assistant of the cool drink guy Subhash. Shiva signs Arnab to leave. He obliges.
Rishita asks Raavi that she had told Arnab is a child. Dev also agrees with Rishita. Just then, the inspector says that the doctor phoned and said that the drug was mixed in the cake. After searching throughout the whole house, Dhara and Krish say that Chiku isn't at home. Dev tells the inspector that they fixed CCTV cameras in the whole house and asks if the police checked them. The inspector says that the cameras were disabled, so they couldn't find any footage.
Shweta recalls disabling the CCTV cameras. The inspector asks who bought the cake. Krish says that he bought the cake from his friend's bakery. He and Shweta decorated the cake. Shweta asks the inspector to stop enquiring about the cake and to find Chiku. Dhara says that she will find Chiku by herself. Gautam stops Dhara. The inspector assures Dhara that they will find Chiku. They asked for CCTV footage of the whole city. Yet Dhara goes to find Chiku, followed by Gautam, Krish and Shweta.
Dhara shows Chiku's photo to Prakash and asks if he saw him. Someone kidnapped him. Gautam, Krish and Shweta come there. Prakash says that he saw a woman taking Chiku. Shweta gets scared of getting caught. She pretends to faint. Krish and Gautam hold her. Gautam asks Prakash to tell the police what he knows. Prakash says that he doesn't want to get involved in a police case. Gautam and Krish convince Dhara to return home as Shweta's health condition is bad.
Elsewhere, Shweta's friend is with Chiku. She thinks that the police didn't catch her since the guard who is on duty has changed. Chiku cries. She tries to calm him down. Dhara leaves the house to find Chiku despite Rishita and Raavi trying to stop her. Gautam and Krish are looking for Chiku.
Dhara is also finding Chiku. On the other hand, Shweta's friend feeds milk to Chiku. She wonders what she will feed Chiku if she is unable to go out. She phones Shweta to alert her about the same. There, Rishita asks Shweta who is calling her in the late night. Shweta says that some marketing calls. Rishita says that Shweta didn't give her blood sample when the doctor came.
Shweta says that she got panicked. Rishita says that she will call the doctor. Shweta reacts angrily. Raavi asks Rishita to let it go. Just then, Gautam and Krish return home. Gautam tells Rishita and Raavi that they made Kidnapper's sketch with the help of Prakash and the police are investigating with the help of that sketch. Shweta gets scared of getting caught and decides to alert her friend.
The episode ends.
Precap: Shweta comes with her suitcase. Suman asks where she's going. Shweta says that she's going to her parents house. Just then Shweta's mom comes there and questions the Pandyas about losing Chiku.
The episode starts with Pandyas gifting a gold chain to Suman. The latter asks if they have taken money from her locker to buy it. Gautam assures Suman that they bought it together with their own money. Suman gets elated. Gautam makes her wear it. Dhara asks Shweta to distribute the cake to the guests. Rishita reminds Dhara that Shweta is their guest, who is going to leave their house soon. She distributes the cake.
Raavi gets shocked when Arnab arrives there. She thinks that she will land in trouble if her family sees him. She takes him outside to talk. Shiva notices that Raavi is missing and goes to find her. Meanwhile, Raavi says to Arnab that her family doesn't know that she is getting his help. She says that they can talk the next day and urges him to leave. Inside the house, Shweta's friend, who is disguised as a dancer, dances.
Pandyas join them. Shiva comes out of the house and finds Raavi talking with Arnab. On the other hand, Pandyas start to feel dizzy. They faint. Arnab says to Raavi that they can meet the next day and have breakfast and lunch together. Shiva feels dizzy and he also faints. Shweta gives Chiku to her friend. Her friend leaves, taking Chiku along with her. Raavi is busy talking with Arnab, so she misses seeing them.
Click to read