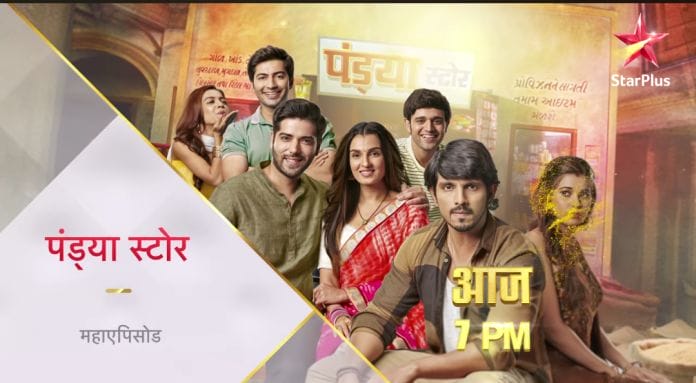 Pandya Store 15th September 2022 Written Update on TellyExpress.com
The episode starts with Gautam asking where Dhara and Suman are. Raavi says that Suman is in her room and Dhara went to find Chiku. Gautam and Krish go to find Dhara. Meanwhile, Dhara is looking for Chiku by showing his photo to the passers by. Due to walking barefoot, her feet get injured and she walks with a lot of difficulty. Gautam and Krish find Dhara in bad condition. Dhara cries and refuses to return home. Gautam lifts Dhara and forcibly takes her to the house.
As Pandyas haven't eaten anything since the previous day, Rishita tries to convince the ladies of Pandya to have juice. But they refuse. Dhara gets inconsolable wanting to see Chiku. On the other hand, Forum is having a hard time consoling a crying Chiku and she is unable to contact Shweta, whose phone is switched off. Here Shweta eats dried fruits secretly. She worries about Forum finding out about her sketch and panicking.
There, Forum sees through the window the police having her side profile sketch. Here, Krish sees Shweta eating dried fruits secretly while Dhara is inconsolable. He confronts Shweta. The latter puts up an emotional drama. She says that she has to eat to consume her panic attack medicine. Krish leaves. Shweta thinks that she should be more alert. Forum regrets agreeing to help Shweta. She decides to take Chiku back to the Pandya house and exposes Shweta. Just then, Shweta phones Forum.
Forum vents out her anger at Shweta for keeping her phone switched off while the police are sticking her sketches in the whole city. Shweta tries to convince Forum that Chiku should not be with her as it's not good for him. Forum touches the baby and is shocked to realize that Chiku has a fever. Here Shweta's call disconnects due to some network issue. She tries to call her. Just then, Rishita arrives there. Shweta wonders whether Rishita heard her talk with Rishita, while Rishita wonders what she's doing here.
The Pandyas try to convince Dhara to have food. But Dhara refuses and cries, wanting to see Chiku. Suman asks about the status of the police investigation. Gautam says that the police are investigating with the help of the kidnappers' sketch. There a guard come into the Forum's room with the sketch. Forum scolds him and sends him away. Here Raavi is concerned about Dhara's health. Dhara says that she will be fine when Chiku is fine. Krish assures her that Chiku will be found and asks her to have food. Shweta finds Forum's phone isn't reachable, so she drops messages.
Dhara requests Raavi to appeal to her social media followers to help them find Chiku. Raavi says that the hacker changed her account login password, so she doesn't have access to her account. She apologizes to Dhara for not being able to help her. Suman blames herself for not letting Raavi go to recover her account the other day and apologizes to her for the same. Shweta feels thankful that Raavi's account got hacked. Raavi says that she went to recover her account despite Suman's disapproval.
She was returning from there when she was caught red-handed while entering the house from the backyard. Rishita asks Raavi to post the video then. Raavi says that it takes 10-15 days to recover her account. She spills that she took help from Arnab. Suman complains that Shiva lied to cover Raavi. Rishita suggests posting Raavi's video on her account. Shweta opposes this. She says that Rishita doesn't have many followers, so the video won't have much reach.
Rishita scolds Shweta for stopping her and reminds her that they are doing this to save her child. Raavi uploads a video seeking the followers to help to find Chiku from the account of everyone in the family, including Shweta. She phones Arnab and informs him the same. She asks him to help to increase the reach of those videos. Arnab agrees and assures her to ask his staff to upload Chiku's photo to their social accounts. Forum is worried as Chiku's health worsens and her phone's battery is dead. Here Dhara gets sick and Krish goes to bring a doctor. Gautam gets worried when Krish hasn't returned yet, taking a doctor.
The episode ends.
Precap: Suman asks Shweta where she's going Shweta says that she's going to her house. Just then Shweta's mom comes there and confronts the Pandyas about losing Chiku and failing to keep their promise.
The episode starts with Arnab saying to the inspector that it couldn't be the act of the hacker, since he hadn't caught him yet. Someone else did it. On the other hand, Shweta's friend manages to cross a police checkpoint by lying that she's taking home the baby after a doctor's checkup. Here Pandyas and the guest gain consciousness. Rishita takes Chutki from Raavi. Shweta looks tensed seeing everyone's blood sample has been taken. Rishita asks what happened. Raavi says that they were all unconscious when she found them.
Rishita asks if she was in her senses. Raavi says no. Dhara asks where Chiku is. They all look for Chiku. A nurse is about to take Shweta's blood sample. Shweta pushes her. She asks Raavi where Chiku is and starts to make her drama. Raavi says that Chiku wasn't there when she arrived. The inspector says to Shweta that they are looking for Chiku. He asks Shweta to give her blood sample. Shweta tries to run away on the pretext of finding Chiku by herself. Police stop her. Rishita gets suspicious of Shweta's actions.
Dhara shouts at Raavi for not checking in the whole house for Chiku. She goes to check.
The inspector asks what the whole family ate except Raavi, which caused their dizziness. Raavi says that she didn't eat the cake. Suman asks why she didn't eat her sweet 60th birthday cake. Raavi says that she went to meet Arnab. Suman asks who Arnab is. Shiva lies that he is the assistant of the cool drink guy Subhash. Shiva signs Arnab to leave. He obliges.
Click to read