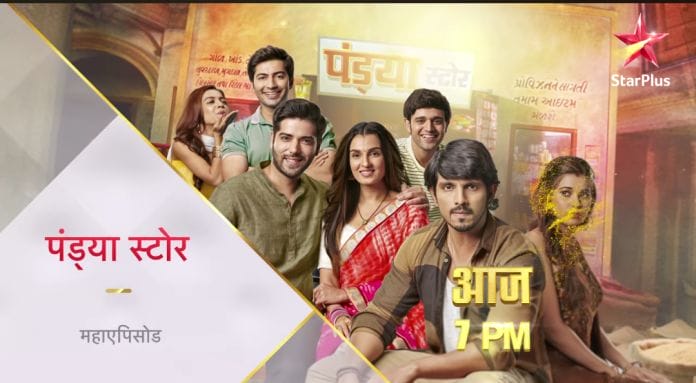 Pandya Store 17th November 2022 Written Update on TellyExpress.com
The episode starts with Dhara saying to Shiva thay she has been yearning for child and he thinks that she can kill a child, advise anyone to abort a child and she will do it to him. Shiva asks how Arnab know about Raavi being at hospital and reached before him. Rishita says that she told him when he called on Raavi's phone. Shiva asks Arnab is Raavi's boss and why he's trying to act as her husband. He says that among all his staff Arnab only care for Raavi. He says that he learned that Raavi got hurt from Arnab, not Raavi.
Shiva says that in the hospital Arnab was sitting holding Raavi's hand and he was reassuring her. Suman asks Raavi if it's true. Raavi clarifies that Arnab held her hand as she was scared of getting injected. Shiva refuses to believe Raavi. He says that Raavi was scared of her and Arnab's affair getting exposed. Dhara shouts Shiva and raise her hands to slap Shiva. Dhara controls herself. She warns Shiva that he could regret his words after being cool down. Gautam says to Shiva why he QA Raavi when he doesn't wants to understand the matter. Suman asks Shiva calm down. Raavi says that Shiva lost his mind and needs to be treated.
She says that she has been trying to explain him from the day one that Arnab is only her boss, but Shiva doesn't understand it Suman asks then why Arnab visits their house, has visited her in the hospital and interferes in between them. She defends Shiva by saying that Shiva lost his find after seeing Arnab holding Raavi's hand in the hospital. She says that Shiva give a proofand Dhara and Raavi to give proof for their innocence so thay this chapter can over. Dhara tries to explain Suman that Raavi wasn't pregnant. Suman asks the why she got pregnancy kit. She asks not to make her fool.
Rishita regrets questioning Shweta about the pregnant which leaded to a big confusion in the family Rishita says that if Raavi says that her fibroid was removed, then it must have happened. Shiva says that there are other things too. He says that he saw Arnab dropping Raavi at home and Raavi presenting gift to Arnab secretly outside the house on the Diwali day. He says that she would have invited him inside the house, if her intentions weren't wrong. He adds that Raavi gifted him a cheaper shirt than Arnab by saying that it suits his status. Raavi says that she said personality.
Raavi tries to clarify to Shiva that she learned after going to Mumbai that had got switched. Shiva says that his shirt didn't mix up with his brothers, but with her boss. Shiva says that he learned about Raavi's mumbai trip when Gautam and Dev were planing to send them to Goa. Shiva asks If Raavi if she had a lot of fun with Arnab. A furious Dhara slaps Shiva. She scolds Shiva for accusing Raavi and asks how much lower he will stoop.
Dhara asks Suman and the Pandya brothers to make Shiva understand. Dhara says that Raavi hadn't done her abortion and asks them to believe her. She says what is happening is wrong and will never forgive Shiva for that. Raavi asks Dhara not to beg anyone for her. She says that her listening and tolerating capacity reached the limit.
She says that she can't expect Shiva to understand her in one day when he couldn't understand her from 25 years. Suman blames Raavi's actions. She says that Raavi lost her mind as she's famous and earns money. Raavi decides to leave the house. Shiva asks Raavi to leave. Raavi begins to leave. Dhara holds Raavi's hand to stop her. Shweta is happy to see this. Dhara asks Gautam if Pandyas relationship are so weak to fall apart just because of a report.
Shiva says that even Gautam knows that Dhara can go to any limits to prevent the family from falling apart. Shweta praises herself and her smartness. She gets water to the Pandyas. She pretends to defend Dhara and says that if Dhara says that Raavi is innocent then she must be innocent. Rishita says that even Shweta knows this and asks why he didn't understand this. Shweta says that Dhara got her married to Krish despite knowing about Deven and the robbery. She adds that she promised Dhara that she will rectify her mistakes, so Dhara hid this from the family and kept her promise till Rishita exposed her which shocks the Pandyas.
The episode ends.
Precap: Dhara asks Suman to stop Raavi from leaving the house. Suman asks Dhara to leave the house along with Raavi. Dhara decides to leave the house to find the truth. Rishita asks doctor Nothing whether Raavi got operated for fibroid or foetus removal.
Click to read