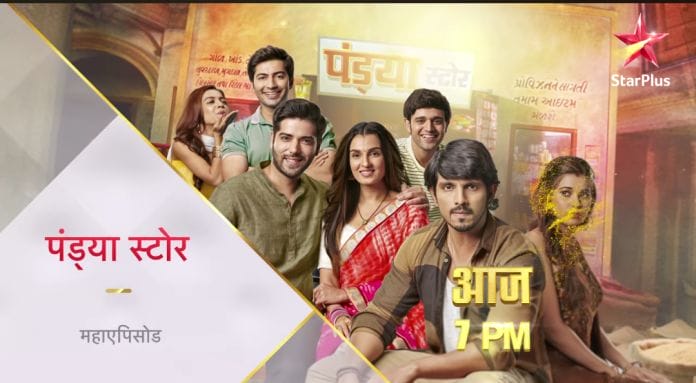 Pandya Store 18th November 2022 Written Update on TellyExpress.com
The episode starts with Shweta saying that Dhara got her married to Krish despite knowing her truth and hid the truth from the whole family for the promise she gave her. Suman, Gautam and Krish ask Dhara to say if Shweta is saying the truth. Dhara admits that she knows Shweta's truth before her and Krish's wedding.
She says that Shweta deserved a second chance since she loved a wrong person. She wanted to come out of Deven's trap, so she helped her. She says that she doesn't think that she did anything wrong. Suman asks Dhara to shut up. She scolds Dhara for pushing Krish into a relationship which doesn't have a future despite knowing it. She says that she proved that she will do what she thinks is right. She says that she forced Shiva to marry Raavi and she got Krish married to Shweta despite knowing her truth.
She accuses Dhara of ruining her sons' life. Shweta asks Suman to calm down. Suman shouts at Shweta for ruining Krish's life in order to improve her life. She warns Shweta not to show her face to her. Suman says to Dhara to see the faces of her sons who blindly believes her. She asks Dhara why she did it. Shiva asks Suman to let it go. He says that Dhara will only do what she wants, what she sees.
He says that Dhara didn't do anything despite seeing Raavi and Arnab growing closer. He accuses Dhara helping Raavi and Arnab's bonding to grow and when their relationship crossed its limit. Raavi shouts asking Shiva to stop. Raavi says that she's tired of telling the truth. She will say what Shiva wants to hear now. Raavi lies that she was pregnant and aborted it. Her and Arnab's relationship is more than a friendship and asks Shiva what his problem with this. Dhara goes to Raavi and says her not to lie. She asks Rishita to make Raavi understand, she will ruin everything. Dhara says to Gautam,
Suman and Shiva not to believe Raavi's words as she's talking rubbish out of anger. Dhara repeats Raavi will ruin everything because of her anger. Raavi says that nothing left to be ruined. She says that no one is interested to know the truth. She says that she fulfills Shiva's wish if she confesses her crimes. Raavi says to Shiva to remember that she can prove her truth now itself by going to the hospital. Suman asks Raavi to go the hospital and proove her innocence. She asks Gautam to bring the doctor. Shweta grows anxious to hear this.
Dhara says that there are two doctors in that hospital, a junior and a senior. She says that she didn't ask their names, but she can identify them. Shweta asks what is the need to go to the hospital and asks Dhara to check the report to find the doctor's name. Dhara says that the junior doctor gave wrong report that Raavi is pregnant, but the senior doctor said that Raavi had fibroid after checking her. She says that the senior doctor gave the right information and she doesn't know which doctor's name is written on the report.
Suman asks Raavi to phone to the hospital and ask to clear the matter. Raavi refuses to call as she knows her truth and it's enough for her. She asks Shiva who wants to know the truth to call to the hospital and ask the doctor. Raavi goes to her room. Dhara goes after her. Shweta thinks of phoning her parents and tell them what's happening in the house. She goes aside making an excuse.
Raavi closes her room door. She cries, remembering Shiva's allegations on her. She starts to pack her bag. Dhara arrives there and asks Raavi to open the door. She checks through the window and sees Raavi packing her bag. On the other hand, Shweta phones her mom and lies that Raavi was in affair with someone and became pregnant.
Dhara helped her with abortion, so Suman asked them to leave the house. She says that she's worried about Chiku. She says that Dhara can misuse Chiku's fund and asks her mom to do something. Here, Dhara asks Raavi to open the door. As Raavi doesn't open the door, Dhara goes to Shiva and asks him to stop Raavi from leaving the house. Shiva moves away and warns Dhara showing his finger to stay away from him. Dhara then asks Suman to stop Raavi.
Suman asks Dhara to leave the house along with Raavi as she sympathized with Raavi. Gautam, Krish and Rishita try to convince Suman, but in vain. Krish decides to go to the hospital to find the truth. Rishita says that she will go as it's ladies matter. Rishita leaves. Suman asks Dhara to leave the house. She asks Dhara not to wait Rishita's return as Shiva saw Raavi holding a stranger's hand and Raavi admitted it so the matter is over.
Suman asks Dhara to leave as she keeps reminding her that she ruined her two sons' life. Gautam is about to go after Dhara. Suman taunts Gautam that he cares more about his wife than his brothers. Krish asks Shiva to stop Dhara and Raavi. Shiva cries, placing his head on Suman's lap. Suman consoles him that those who wronged him will get punished. Shweta sees this and smiles.
In the hospital, Rishita asks a nurse whose sign is on Raavi's report. The nurse sees Raavi's name and says that the doctor Nothing checked her. Rishita goes to doctor Nithin and asks whether Raavi had fibroid or foetus removal operation.
The episode ends.
Precap: Raavi and Dhara leave the house. Rishita disguise as a ward boy to find the truth about Raavi's report. She checks the hospital's CCTV footage and is shocked to see Shweta in the footage.
Click to read