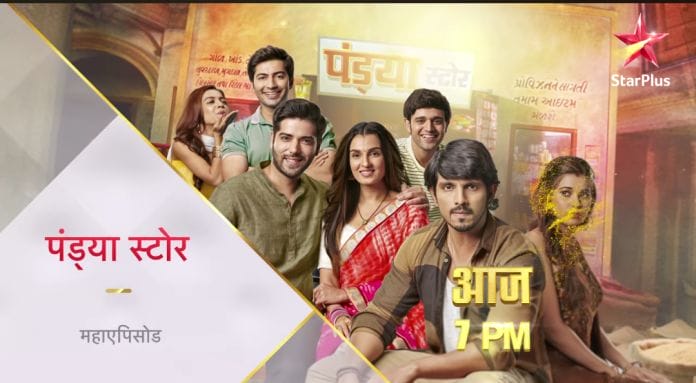 Pandya Store 19th January 2023 Written Update on TellyExpress.com
The episode starts with Krish being shown living in Canada. He became a businessman. He receives a call from a person whom he addresses as Dad and leaves. Here, Chiku asks Gautam to fly the kites with their family members'names on them together like every year. Gautam starts to tie the kites with each other. A group of children arrive at the Pandya Nivas. They moke Gautam about tying the kites together. Chiku sticks a fake lizard in a boy's back and scares him. He warns them not to make fun of his dad again. Gautam and Dhara smile seeing this. Chiku, Gautam and Dhara share a group hug.
Rishita and Dev are shown living in Ahmedabad. She's on call with a school principal. Rishita assures her that her son Shesh is very obedient and disciplined. Dev is shown, looking at the photo of himself, Rishita and Chutki. He misses Chutki. He reminds Rishita that today is Uttarayan and today they lost Chiku. He asks why she is sending Shesh to a boarding school on this day. Rishita says that they can't handle Shesh as they are both working. She adds that he is intolerant sometimes, as Dev spoiled him with his excessive love. He has already been removed from four schools and she has to lie to the boarding school principal. Dev and Rishita argue over this. Rishita firmly says that Shesh is going to the boarding school. Dev says that he regrets having another child after seeing her behavior.
Shiva is shown drawing Pandya Store on the wall. Raavi wipes off Pandya Store name and feeds sweet to him. Shiva asks why Dhara didn't made it. Raavi becomes angry and says that she is tired of explaining to him again and again that this is not Somnaath and they're not in Pandya Nivas. Shiva hugs Raavi and says that he will take to a good doctor and gets her treated. Here, Chiku, Dhara and Gautam fly kites on their terrace. Raavi explains to Shiva that they live in Vadodara and in their house. But Shiva says again that they're in Pandya Nivas and Dhara changed the wall color as today is Uttarayan. He says that Pandyas live here and he is about to leave to fly the kite.
Raavi stops him. She threatens that she won't give him sweets after feeding bitter medicine to him. She is about to go to take the medicine. A child arrives there, calling Shiva dad. He wishes him a happy Uttarayan. In Ahmedabad, Shesh goes to Dev. He shows his wallet to Dev and asks him to give him money to buy kites. Rishita reminds him that they don't celebrate Uttarayan. Shesh is adamant. Dev is about to agree. Rishita refuses and snatches the wallet from him.
Shiva and Raavi hug Mithu and wish him Happy Uttarayan. Shiva asks Mithu why he got only three kites when they have a big family. Raavi says that there are only three members in their family. Shiva asks Mithu if he doesn't take care of his mom, so she is talking nonsense. Mithu says that he is talking nonsense. Shiva scolds him for supporting his mom. He asks Mithu to go and fly kites on the terrace with the family. Raavi stops him and says that she will take him to the terrace later, as if he goes there alone, other kids will tease him and hit him. Shiva grows worried and asks if the Pandyas aren't on the terrace. Raavi calms him down and assures him to take him to meet the Pandyas.
Rishita chases Shesh for taking money from the wallet despite her refusal. Dev stops her and asks her to behave like a mom. She says that the hostel warden will teach him good manners now and angrily leaves. Dev lifts Shesh in his hands and takes him to fly kites. Here, Dhara and Gautam are flying kites. They become emotional, recalling flying kites with the Pandyas. Chiku brings them to reality. They trio fly kites. Gautam removes Dhara's hand when she places it on his shoulder. In the room, Suman feels uneasy and calls out to Dhara.
The episode ends.
Precap: Suman screams. Dhara goes to check Suman. Dhara is shocked to see Suman lying on the floor unconscious.
Click to read