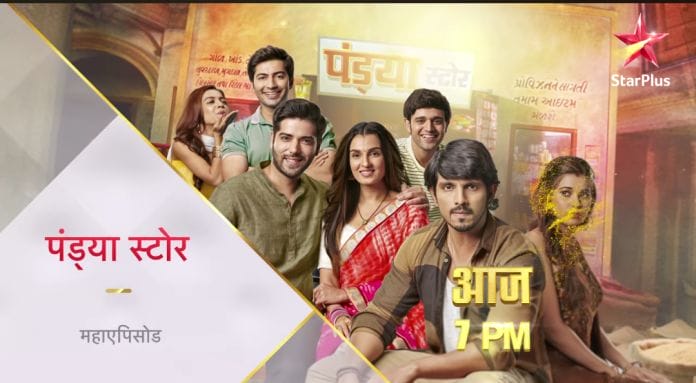 Pandya Store 19th November 2022 Written Update on TellyExpress.com
The episode starts with Dhara packing her bag to leave the house. Gautam arrives and he starts to pack his bag. Dhara asks Gautam what he is doing. Gautam says that he knows that Raavi can't wrong Shiva and there's no affair between Raavi and Arnab, but Suman and Shiva's anger is justified after seeing the report. He says that if Suman expels Dhara, he will also leave the house along with her as he promised her to be with her in her joy and sorrow.
Gautam holds Dhara's hand. The latter says that it's not time to think about them, but about Raavi-Shiva. She says that it's necessary to find the truth about Raavi's report. Meanwhile, Rishita asks doctor Nithin whether Raavi Pandya had a fibroid or a foetus removal operation. She also asks who signed the report. Nithin checks the report and is shocked to realize that it's the same report he swapped with the fake one. He grows anxious. He says that it's not his sign and he can't perform any operation as he is a junior doctor.
Here, Dhara says to Gautam that the fact that Suman got hurt, so she should leave the house, he won't come with her. Gautam refuses to break his promise to her. Dhara says that she knows very well the seven vows of the wedding. She says that if they both leave this house now, this house will fall out and the relationship will be ruined. She asks Gautam to stay to keep her and Raavi united to this house. She prevents him from refusing by giving her swear. She says that Raavi is sad and she will try to handle her and asks Gautam to handle Suman and Shiva, since only he can do this.
She says that they're the important factor which keep this family united. She hugs him. Dhara assures Gautam that she can never do anything which will ruin the family. Gautam says that he knows that she can never be wrong. He jokes that he will also experience for the first time how it will feel after throwing his wife out of the house as he only saw this in movies. They hold each other hands, looking into each other's eyes. They share a hug while Ishq hai plays in the BG.
Gautam brings Dhara downstairs. Dhara cries, remembering her memories in the house. Dhara stumbles. Gautam holds her. Dhara hears Chiku crying and goes to take him. But Suman stops Dhara and says that he isn't her child to take him with her. She asks Shweta to take Chiku, but Shweta doesn't move. So, Dhara goes to the room. Dhara brings Chiku with her and says that she's taking Chiku with her as his grandparents gave his responsibility to her.
Shweta acts and says that she can't live without Chiku and asks Dhara to stay back. Krish reminds Shweta that Dhara is Chiku's custodian. Shweta says that Dhara is custodian of Chiku's money, not Chiku. Krish reminds Shweta that she's in the house because Chiku is with Dhara. He says that Shweta will be out of the house when Chiku will be taken away from Dhara. Shweta thinks that there will be less problems if Chiku goes with Dhara. Shweta asks Dhara to take good care of Chiku.
Dhara says to Krish that she doesn't know what he thinks about her after what happened. She says that he was and will always be the apple of her eye. Krish hugs Dhara feeling emotional and assures her that she won't stay outside the house for a longtime.
Dhara says to the Pandya brothers that one of them should always be at home as Shweta is new to the house and doesn't know everything. She asks them to take care of them. Dhara touches Suman's feet to take blessings. Dhara says to Gautam to take care of the family as she's leaving everything, at his responsibility. Gautam asks her not to leave. Dhara hugs him. She gets emotional, looking at Shiva, who has his face turned the other way and remembers her memories with Shiva and the Pandya brothers. Dhara begins to leave.
Yaadon ki baaraat sad version plays in the BG. Dhara is about to step outside the house, Raavi also joins her. Dhara and Raavi look at each other. They step out of the house simultaneously. They turn around and touch the ground. They look at each other and start to leave. Suman and Pandya's brothers look emotional while Shweta smirks. Gautam brings Dhara's suitcase to Dhara. Shweta realizes that Rishita isn't in the house. She grows anxious about whether Rishita went to the hospital to find the truth.
The episode ends.
Precap: Rishita phones Dhara and says that no one in the hospital can identify the signature on the report. She says that something is fishy. Dhara says that there were two doctors. She asks Rishita to go to the ultrasound test room to find the senior doctor. Rishita disguises as a ward boy and views the CCTV footage. She sees Dhara talking with the senior doctor and then she is shocked to see Shweta in the footage.
Click to read