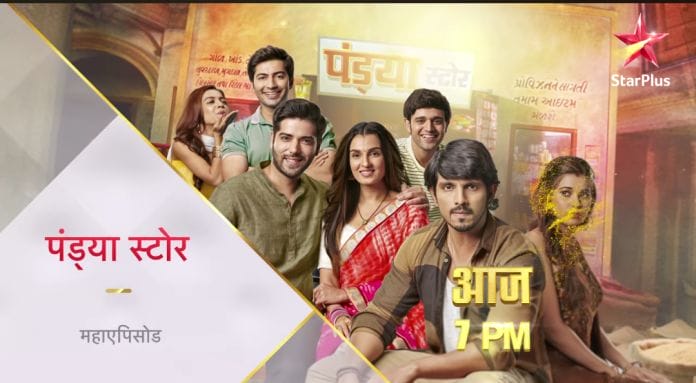 Pandya Store 1st December 2022 Written Update on TellyExpress.com
The episode starts with Gautam saying to Shweta that she will get arrested for Dhara's murder. Shweta accuses him of being involved with the Pandyas. Gautam says that she will understand once she gets beaten. Shweta says that there is only one key to the house and she has it. She asks then how Dhara can come inside the house. Rishita says that Shweta must have called Dhara by giving excuses and she's now cooking up a story. Dev accuses Shweta of killing Dhara.
Gautam threatens Shweta that she has to go to jail. Shweta becomes suspicious when Gautam calls her by her name. She asks why he knew her name when none of them told him. Gautam says that it's not a big deal to find her name. He diverts the topic. He accuses Shweta of murder and says that she has to go to jail. Shweta says no. On the other hand, Shweta's mom gets convinced to give Chiku's custody to Shweta. Here, Dev asks Gautam to do justice to Dhara. Gautam says that they will do a postmortem of the body and the case will be filled, then they will see what to do. Krish says to Rishita that a team is needed to do a postmortem and they can't arrange it. He adds that Gautam is taking his role too seriously.
Gautam calls out to the constable. Krish wonders whether Raavi will come disguised as a constable as she's the only person who is left in the family. Just thrn a constable arrives. Shweta recognizes him as the police constable who roams in their street. She thinks that the police are real. The constable looks at Dhara's body. He says to Shweta that she killed someone as soon as she entered the house. Shweta says that she didn't kill anyone, they are all doing drama. She decides to call her mom, shocking the Pandyas.
There, Shweta's mom is about to sign the custodian papers. Just then, she receives Shweta's call and answers it. Shweta says to her mom that Dhara got murdered and the Pandyas are accusing her. She says that the police will arrest her. She asks her mom to save her. Shweta's parents decide to go there to save Shweta. Here, the Pandyas are worried that their plan to corner Shweta and make her confess the truth will fail if her parents arrive. Rishita asks Gautam to take Shweta with him before her parents' arrival and make her confess the truth. Rishita and Dev ask about the real police constable. Gautam assures them that he became his friend. He told him everything and he agreed to help him.
As the train derailed, Suman and Shiva decide to return home. Shweta's mom asks Shweta to make the inspector talk to her. Rishita asks Gautam to prevent Shweta, who is a criminal, from talking on the phone. Gautam urges Shweta to hang the call. He asks the constable to catch Shweta. The latter runs here and there to escape the police and accidentally falls into the well. The pandyas get worried. Krish ties a rope around his body and jumps into the well to save Shweta while the Pandyas hold the rope. Shweta thinks that they want to save her despite her misdeeds against them. After lot of efforts, Krisg finds Shweta. The Pandyas pull them up.
The Pandyas are relieved that they saved Shweta. Gautam says that Dhara is still faking her death despite the mishap. Rishita and Gautam go to Dhara and ask her to wake her up since Shweta is unconscious. Rishita asks Krish to take out the water from Shweta. Krish says that he can't do it. So Rishita does it. As Shweta doesn't wake up, Krish gets scared about whether something has happened to Shweta. Rishita checks her heat beat and says that nothing happened to her. She didn't even swallow water. She must have fainted due to the shock.
Suman and Shiva reach home. They meet Shweta's parents outside the house. Suman asks them why they're tense. Shweta's mom says that Dhara got murdered. Suman and Shiva are shocked to hear this. Inside the house, the constable is scared of losing his job and wants to leave. Gautam asked him to wait. Dhara tries to wake up Dhara while Krish tries to wake up Shweta. Outside, Shiva and Suman say to Shweta's parents that Dhara can't be murdered and it must be fake news. Shweta's mom says that Shweta called them and said that Dhara was killed and they all blame Shweta. Police also came. Shiva says that there's not any police car parked outside the house.
Suman says that it must be Dhara's drama to reenter the house. Inside the house, Pandyas are shocked to hear Suman's voice. Gautam says to Dhara that Suman has come and asks her to wake up. Dhara awakens on hearing this. She is scared of facing Suman's wrath and decides to leave. The Pandyas praise Dhara's acting skills and say that they feared that something really happened to her. Dhara says that a thief attacked her with a knife, but she escaped as she took the effigy in front of her. She narrates them whatever happened.
The episode ends.
Precap: Shweta confesses her misdeeds, shocking Suman and Shiva
Click to read