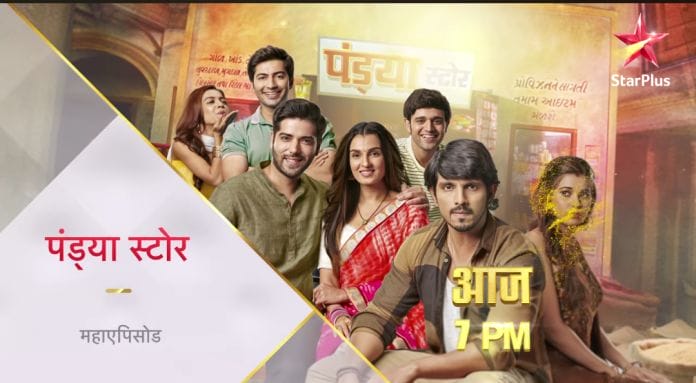 Pandya Store 1st June 2022 Written Update on TellyExpress.com
The episode starts with Kamini and Kalyani getting shocked on seeing Rishita wearing the same necklace that Kamini stole from Pandyas the other day. They wonder how Rishita got that necklace. Kalyani says to Kamini that she saw giving thread to Dhara and asks if she is really not doing anything.
Kamini says that she's not and asks to look after Rishita. Kamini decides to check if there's necklace in her cupboard. Rishita happily hugs Janardan and then Kalyani. The latter says to Rishita to sit on the puja covering herself. witb her palu. She covers Rishita's necklace so that Pandyas don't see it. Meanwhile Kamini gets shocked not finding the necklace in her cupboard realizes that Rishita wearing that necklace.
She says that Dhara shouldn't see that necklace else she will get a reason to take Rishita back home. Rishita performs the aarti. Raavi says that Kalyani smartly covered the necklace, but it will get exposed sooner or later. Dhara scolds Raavi to not reveal their plan. The ladies get ready to perform the ritual of tying the thread around the sacred plant. Their husbands want to complete the ritual with their wives.
Janardan opposes this saying these rituals are only for women, not men. Gautam supports husbands taking part with their wifes in the puja. The couples complete the puja. Krish asks if they can play garba. Dhara says that they don't it now. Raavi says that they can do it whenever they're happy. They all play garba.
Kamini scolds Dhara for not tying the thread yet. She gives the thread and says to tie it there. Dhara gives an excuse to do it later, but Kamini urges Dhara to do it immediately. Dhara understands that Kamini has an evil plan behind as she had one last time she asked to press the clothes and gets determined to not get her successful this time.
Rishita sees Dhara going taking the thread. Dhara places the thread near the buffet and leaves. Kalyani comes there to drink water and sees the thread. She understand that this is the same thread that Kamini gave to Dhara and thinks that thankfully she didn't tie it. She leaves.
Kamini sees the thread and thinks that Dhara considers herself smart. Kamini comes to Kalyani and says to get things to remove evil eyes from Rishita. Kalyani says that she's still thinking of executing the plan. She says that she won't forgive her if anything happens to Rishita or her child because of her plan. Kamini agrees and sends Kalyani inside. Kamini takes the thread and ties it between two armchairs.
Kamini instructs over phone to her men to steal the necklace from Rishita without hurting her. Gautam and Shiva overhear Kamini and decide to call their men. Gautam and Shiva catch Kamini's men. Kamini tells a woman to stand near the place where she tied the thread and hold Rishita when she will stumble. She says that she is taking big risk as she doesn't want Rishita return to that poor Pandya's house. Dhara wonders where Shiva is as it's time to steal the necklace.
Rishita stumbles and is about to fall, but Dhara and Raavi hold her. All get worried about Rishita on seeing this. Dev and Janardan thanks Dhara for saving Rishita. Kamini accuses Dhara of trying to kill Rishita's child once again shocking all.
The episode ends.
Precap: Gautam saves Krish from getting hurt in the Pandya Store. Gautam says that they have to renovate the store soon. Dev reminds him that they still of shortage of money.
Click to read