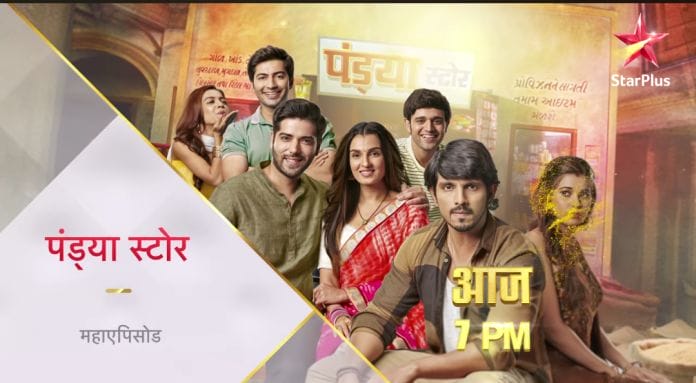 Pandya Store 1st November 2022 Written Update on TellyExpress.com
The episode starts with Suman saying to Dhara that she has to leave the house along with Shweta if the latter makes any mistake again. Dhara assures Suman that Shweta won't. Suman expresses that she wants Krish to also settle down in life with Shweta. Suman praises Rishita and thanks her for unmasking Shweta. She jokes by saying that Rishita isn't more genius than her.
At the Pandya store, Shiva hears Dev and Gautam talking about sending Shiva and Raabi to Goa. Shiva wonders which FD Gautam is going to encash for this plan. He thinks of rejecting the Goa trip, but he changes his mind as Gautam could be hurt if he directly refused. He thinks that Raavi won't get leave, so the plan will get cancelled.
At Arnab's office, Arnab says that he will ce office even on the day of Diwali as his parents live with his brothers in the US. Raavi is about to invite Arnab to her house to celebrate Diwali. She hallucines Shiva arguing with her for inviting Arnab to the house and vowing to ruin Arnab's Diwali. At the store, Dev also wants to contribute for Shiva and Raavi's Goa trip. Gautam asks Dev to tell Rishita to convince Raavi to get a few days' leave from her office. Here, Raavi drops the plan to invite Arnab home and wishes him a happy Diwali.
Arnab asks Raavi to use the Diwali leave as next week they have to go to Mumbai to attend a workshop to learn the advanced technology of hacking. He asks her not to have any plans after Diwali. Raavi agrees. There, Dev refuses to ask Rishita. He remembers promising Rishita to take Goa. Dev requests Dev not to tell her about Shiva and Raavi's Goa trip to Rishita as they had planned to go to Goa many times, but couldn't. Gautam assures him to send Dev and Rishita to go the next time. Dev hugs Gautam, thanking him.
Krish gets a new cupboard and a new bed for Shweta. He says to Shweta that she has to use them hereafter and not to touch his things. Shweta says that the bed is too small and refuses to sleep in that bed. Krish says that the beggars can't choose. Shweta blackmails Krish using Chiku and says that she will sleep in the big bed.
Just then, Dhara arrives there. She sees the new bed and cupboard. She lectures Krish about the relationship and requests him to give Shweta a chance. Krish lies that he bought the small bed for Chiku. Dhara feels bad to hear this. She leaves. Krish warns Shweta. He says that he will unmask her if she makes any mistake again. He warns her not to dare to blackmail him with Chiku again.
At the dinner table, Pandyas discuss the Diwali celebration. Gautam suggests celebrating Diwali simply that year. He says that he will invest the leftover money. Shweta hears this from the kitchen. She thinks that she will make sure that Pandyas will go bankrupt this Diwali so that she can prove Dhara is misusing Chiku's money. She smirks.
Rishita wants to celebrate Diwali in a unique way as it's Chiku and Chutki's first Diwali. Suman scolds Rishita for wanting to spend a lot of money on Diwali's celebration. She agrees with Gautam's idea. Shweta doesn't agree with Gautam's plan and says that they should celebrate Diwali grandly. She serves the Pandyas kheer, but they all refuse to have it. Shweta asks if they don't like to have Kheer.
Suman says that they don't want to faint again, like on the day after her birthday Shweta says that there's only one way to win their trust. She drinks all the kheer and faints. Suman says that Shweta mixed poison in the kheer while Rishita says that she mixed sleeping tablets to execute the robbery plan which had failed the other day. Shweta wakes up and says that she pretended to faint to check Suman's reaction. She says to Suman that she didn't mix anything in the kheer. Suman says that broken trust can't be earned back.
Shweta asks what she can do to win back their trust. Suman ignores Shweta and asks the family to have food. Shweta takes a knife and pretends to cut her nerves. She hopes that someone will stop her. Dhara throws the knife away and scolds Shweta. Later, Shweta thinks of convincing Dhara somehow to get Chiku's money to activate her plan. She says to Dhara that she wants to make Chiku's first Diwali special by taking money from Chiku's fund. Rishita arrives there and hears this. Dhara refuses to spend Chiku's money on Diwali celebration.
The episode ends.
Precap: Shweta misleads Raavi to hide the matters related to Arnab from Shiva to worsen their fight. In order to create a misunderstanding between Dhara and Rishita, Shweta says to Dhara that she and Gautam and Dhara did right by deciding to save money by celebrating Diwali simply to send Raavi and Shiva to Goa. Rishita hears this and argues with Dhara.
Click to read