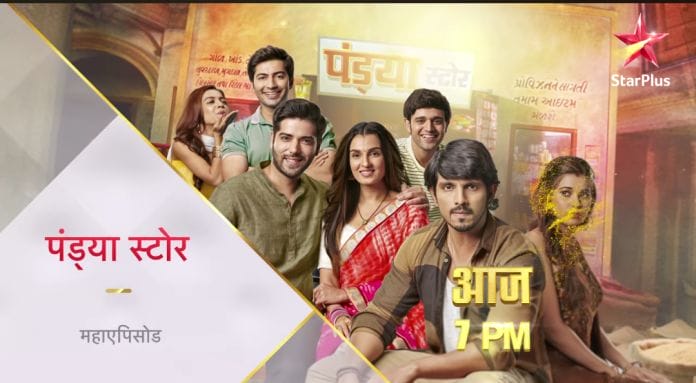 Pandya Store 20th December 2022 Written Update on TellyExpress.com
The episode starts with Dhara asking Gautam if their family will break and they will end up alone. Gautam hugs Dhara. Dhara recalls her pregnancy, her abortion and Anita ruining her dream of becoming mother through test tube baby. Dhara asks Gautam if her dream will be broken this time too. Gautam says to Dhara that it's not a dream to be broken.
Pandyas do shopping for Chiku. Dev suggests to buy unisex clothes so that both Chiku and Chutki can wear them. Pandyas agree. Shiva sees Raavi's dull face and asks what happened. Meanwhile, Suman is praying to God. She asks if she has done right by giving money and hope it won't seperate her sons. She feels that something bad is going to happen and fears the family will break.
Dhara hears this and assures Suman that she will never let their family break. She cries. Suman asks if Shweta didn't agree to take 25 lakhs. Dhara says to Suman that Shweta agreed and says that she's getting happiness only because of Suman. She thanks Suman for that and apologizes to her for emptying her locker. She says that Suman had been keeping that money in the locker from many days and it used to give the strength. Suman says that her family is her strength and not money. However, Suman says that she's scared as happiness can't be bought and even if it's bought, it doesn't stay forever.
Meanwhile, Shweta collects from the lawyer the draft in which its written that the pandyas give their Pandyas store to Shweta with their consent. Raavi says to Shiva that she's also feeling weird like Dhara said that she felt a wear when Shweta hugged her. Here, Suman also says that she senses that something bad is going to happen. Dhara says that she also feel the same way instead of feeling happiness.
Suman reassures Dhara by saying that God will make everything fine. There, Raavi is scared that Shweta will try to break their family like she tried to break their marriage Shiva asssures that nothing like that won't happen. Shweta will leave forever after taking money. Dev interrupts their talking. Pandyas discuss the surprise party to welcome Chiku.
The aunt gives Shweta the onion she asked for. Shweta says to Chiku that Dhara will raiss her till he truns 18 years old. She will return once all the property will be transferred to Chiku and asks Chiku to choose her so that they can leave happily. Pandyas get ready to go to the registration office. Suman goes to find Rishita and Dhara. She hears them discussing giving surprise party to Dhara and gets happy. Suman asks Raavi and Rishita that they may not like that she gave money to Dhara and asks whether it will create a rift between relationship.
Raavi says that not because of money, but sometimes small mistakes and wn emotions can break hearts. Raavi assures Suman that there won't be any rift because of money, but asks what if they hurt each other accidentally. Suman says that Raavi is talking big after doing job. She then asks Rishita the same question. Rishita also assures Suman that money can't create a rift between them as their relationship isn't weak. She asks Suman to take Dhara out soon.
Dhara feeds everyone curd and sweet. Raavi and Rishita say that they're not going. The rest of the family leave for the register office. At the register office, Shweta is waiting for the Pandyas. Pandyas reach the register office. Shweta sees them and apologizes to Chiku for troubling him for the last time. She shows Pandyas to Chiku and says that they will be her family for the next 18 years. There, Rishita and Raavi are decorating the house to welcome Chiku.
Raavi gets upset when Rishita interrupts her in her work. Here, Dev reads the document. Shweta is scared that she will get caught. There, Raavi apologizes to Rishita for letting her frustration out on her the other day. Rishita says that it's fine. Raavi grows worried when Chiku's welcome Chiku board falls down. She expresses her fear of Shweta doing something wrong in the last minute. Rishita is also scared and doubts that she can do something with the agreement paper.
The episode ends.
Precap: Shweta distracts Pandyas from reading the agreement by saying that Chiku's body temperature is high. She urges the lawyer to get the Pandyas sign soon. Pandyas sign the papers. Shweta's parents learn about Shweta taking 25 lakh to leave the city. Pandyas give Shweta the money bag.
Click to read