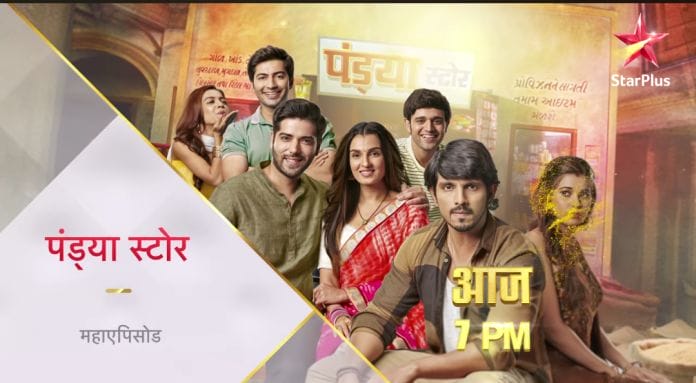 Pandya Store 20th January 2023 Written Update on TellyExpress.com
The episode starts with Gautam shouting that his brother gone away when the kites with Pandya brothers' name flies away. Dhara tries to calm him down. Gautam blames Dhara for his brothers left him. Dhara scolds Gautam for drowning his sorrow. She leaves. Chiku is shown finding the kites. In Ahmedabad, Rishita and Dev are worried as the company in which they were working closed down. The maid arrives and complains that Shesh cut her hair. Rishita questions Shesh and the latter replies that she cut her hair as Rishita doesn't let him cut kites. Rishita raises her hand to slap Shesh, but Dev stops her. The maid refuses to work for them anymore.
Chiku gets the kites back home. He asks Dhaat to say to tell dad that he brought all his boys home. Dhara hugs Chiku. In Canada, Krish arrives at a party and meet a middle-aged couple whom he addresses mom and Dad. They gift him a special kite and says that Prerna got a special sherwani for him from Gujarat. Krish throws the kite away refusing to flying it. He leaves getting upset. The lady is upset that they spoiled the mood of their son-in-law who is like their son. Chiku arrives there and sees this.
In Pandya house, Dhara hears Suman's scream and goes to check. Dhara is shocked to find Suman lying on the floor unconscious. In Vadodara, Raavi tries to feed food to Shiva. He refuses to eat. He asks her to promise not to say to Mithu again that they're only three and the others left. Raavi agrees. Shiva eats the food. Raavi puts him to sleep. Here, Dhara tries to wake Suman up. Chiku goes to Gautam who is intoxicated and tries to wake him up to come and see Suman. Dhara also arrives there and asks Gautam to see what happened to Suman. As Gautam doesn't respond. She calls the ambulance. She makes Suman sit on the wheelchair with the help of Chiku.
Rishita asks Dev and Shesh to do the household as the maid left the job. Shesh cries and says that Rishita doesn't let him fly kites and scolds him too. He says that he hates him. Rishita tries to hit him, Dev stops her. Rishita says that they have left Somnaath to stay away from the Pandyas, but can't run away from the kinship. She says that he is acting as Shiva. Rishita is determined to send Shesh to the boarding school. Dev says that she can't send him to the boarding school as they only paid half fees and they don't have job to pay the rest of the fees.
Mithu returns home getting home. Raavi gets worried. She asks him not to fight as he will get hurt by his dad. Mithu says that he got hurt despite not fighting. He shows her his injuries. Raavi goes to get first aid box to treat his him. In the hospital, Dhara is shocked when the doctor says to her that Suman suffered a heart attack. Dhara asks Chiku to get Gautam to the hospital somehow. He agrees and leaves.
There, the landlord arrives and asks Raavi to pay the rent of last four months and threatens to throw the things out of the house if she doesn't pay it. Raavi says that their financial situation isn't good and begs him to give her one month time to pay his rent. Mithu is scared and watches this hiding. The landlord agrees and leaves. Raavi prays to God and asks how she will manage Shiva, Mithu and house expenses alone without any help.
Dhara cries sitting in the hospital. She says that she is left alone despite having a big family. Chiku manages to bring Gautam to the hospital. Dhara tells Gautam that Suman suffered a heart attack. As Gautam who is in intoxicated condition, doesn't understand, Dhara splashes water on Gautam's face. She says that doctor said that angioplasty is needed for Suman. She says that Deb, Shiva and Krish don't receive her call. She says that thdy don't care about them. She says that Gautam also isn't with her despite being there. Gautam laments expressing his pain that he can't get rid of. Dhara asks Gautam to come to his consciousness as she needs his help.
Dev and Shesh are playing. Rishita arrives there and scolds Shesh. Shesh throws the cushion on Rishita and run here and there. He picks the phone when it rang. He receives the call and puts the phone on speaker. Chiku says that Suman suffered a heart attack. Rishita snatches the phone and says to tell Dhara not use him or Suman. She hangs the call asking him not call them again.
The episode ends.
Precap: Suman recovers, but Dhara asks her to pretend to to die as her sons returned that she is fighting the death.
Click to read