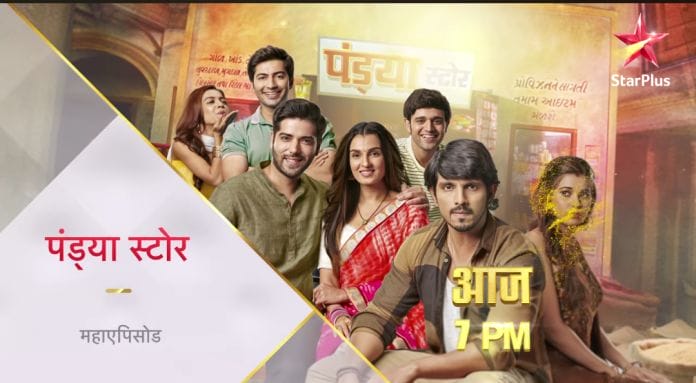 Pandya Store 20th July 2022 Written Update on TellyExpress.com
The episode starts with Rishita suspecting that Krish stole the money as he is the only person who isn't earning and he isn't in the house. Suman taunts them about each one having a desire and needing money to fulfill it. She decides to search in all their rooms and closets. Rishita gets tensed about where Krish is and gets adamant to find him.
Other hand at the Seths Kirti requests Janardan to let her go as Krish is waiting him for her in the temple. Janardan says that he will lose his reputation if Kirti also elopes and get married like Rishta. He asks Kirti to call Krish and convince to move here taking his belongings. Kirti says that she tried to convince Krish, but he refused as he loves his family very much.
Here Pandyas are looking for Krish in the whole house. There Kirti receives Krish's call,. She disconnects it. Kamini asks Krish loves his family but she doesn't love her family. Kirti says that she loves them so she didn't go to the Pandyas house yet. She promises to convince Krish to move here after their marriage.
Here Suman asks Raavi to take her to her room to search. Raavi obliges. Suman asks Raavi to show the closest and draws. Raavi does so. Meanwhile others are looking for Krish. There Kirti refuses to listen to Kamini and shouts that she loves Krish very much and he also loves her very much. She says that he is also leaving his family for her. Kamini asks how they will survive when they both are leaving their families.
Kirti says that Krish has lot of money due to his online trading and assures that they will get settled with it. Janardan says that Krish lied and says that Rishita told that Krish is jobless. Kirti says that Krish didn't tell about this to his family and shows the diamond necklace that Krish gifted her. Here Suman finds lot of chocolate in a drawer. Raavi says that Shiva gave them.
At the Seths' house, Janardan says that the diamond necklace that Krish gave her is fake shocking Kirti. He says to call Kirish and asks to move here. He further says her to live if she wants to live in poverty. At the Pandya house, Rishita says to Suman that she won't get money in the house neither Krish as he isn't in the house. He isn't answering her calls and blocked her number now.
Dhara still refuses to believe that Krish can steal money. Rishita says that Dhara is becoming blind in her motherly love for Krish. Rishita argues with Dhara about the same and blames Dhara's upbringing. Rishita says that they could have given that money to her to start her own business. Suman mocks Rishita and says that someone might have kidnapped Krish.
There Kamini manipulates Kirti to convince her to not elope with Krish. Here Rishita accuses Krish of stealing the money and argues with the family about the same. Shiva says to Dev that Rishita won't get convinced,so they decide to look for Krish.
There kamini tells to Kirti that her life will be miserable at Pandya house after marrying Krish. She asks Kirti to go if she wants such life for herself and reminds. Here Dhara gets worried where Krish and wonders why he isn't answering the calls. Raavi shows Kirti's recent post in her social media account and says that Kirti is going to elope with Krish, so he stole the money shocking all.
The episode ends.
Precap: Krish returns home and gives the money. Suman slaps Krish and scolds him. She decides to throw him out of the house.
Click to read