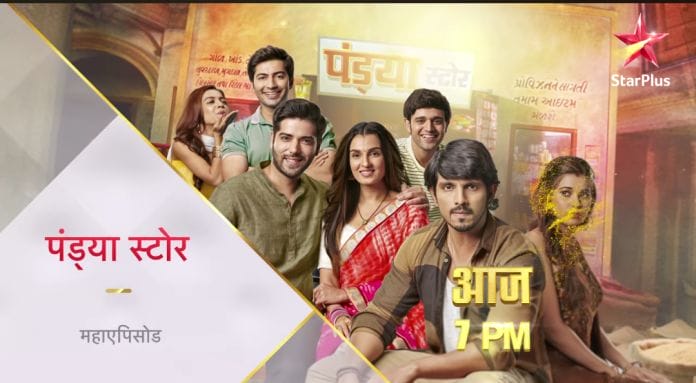 Pandya Store 20th June 2022 Written Update on TellyExpress.com
The episode starts with Raavi saying to Gautam to use the compensatation of 10 lakhs to renovate their store. Gautam says her to keep the money save for her future. Raavi says that her present is only Shiva. Pandya store is Shiva's Anapoorna and it's the same for her and for all of them, so they should handle it first. Suman says that Raavi is right and asks Gautam to accept the cheque. Suman says that they all have rights on that store including Raavi. Shiva would have said the same if he was alive. Gautam says that he doesn't want to use the compensation given for Shiva's death. Suman closes his mouth before he can complete the sentence. Gautam leaves. Rishita and Raavi cry hugging Dhara.
Gautam receives call. The villager who saved Shiva says that he is Anzal and asks if Shiva is his brother. Gautam thinks that he got to know about Shiva's accident and called to express his condolences. Gautam says that it's sad, but they have to accept God's will. Anzal understands that Shiva's family thinks that Shiva is dead. He tries to to that Shiva is alive, but Gautam doesn't hear anything due to network issue and the call gets disconnected. Anzal decides to call again the next day.
Prafulla comes to Raavi and scolds Pandyas for making her wash dishes. She tries to convince Raavi to return to her house. Other side Shiva is taking Raavi's name in his sleep. Anzal says to his wife that he tried to call his brother, but he couldn't talk to him, so he will call him again the next day. Anzal adds that his brothers misunderstood that he is dead, he has to clear the misunderstanding. Here Raavi asks Prafulla how she can complaint about her family even in this hard time.
Prafulla says that she got to know about the compensation money. She says that after Shiva's death Raavi has right on that check, but they're using it for their shop's renovation. Raavi says that she only cares about the cheque. She hands the cheque to Prafulla. The latter says that she cares for Raavi. She says that a girl is respected in her in laws when her husband is alive or when she has money. So she asks Raavi to keep that money. Suman, Dhara and Rishita hear this. Suman taunts Prafulla. The latter says that she doesn't care what they think about her, but this time i will only think about Raavi.
Rishita says to Dev that Suman isn't wrong to say use the compensation that Raavi got, but Gautam refusing to take it. She says that Gautam can take that money and can return her later with intrest since Raavi isn't going to use that money. Meanwhile Dhara says to Gautam that he did right by not accepting money from Raavi as she also needs surety for herself. She says that they should give Raavi the money that they used to give Shiva from the profit of the shop. She should decide what to do with that money. Gautam agrees with Dhara.
Raavi imagines Shiva coming back and asking her to kiss him and give his special birthday gift. Raavi wishes Shiva returns. Other side doctor checks Shiva and assures him that he will be fine soon. Doctor says to Anzal that Shiva's fever is increasing. He says to give him his medicine in time and look after him. Anzal's daughter takes care of Shiva. Her mother Rakhi smiles on seeing this. Anzal says that he is going to call his brother again. Rakhi says to not call as she sees God's will in this looking at their daughter. Here Pandyas get worried on not finding Raavi in the house.
Rakhi asks Anzal what he had decided. Anzal says that they don't know anything about him and scolds Rakhi for thinking about getting their daughter to him. Rakhi says that he is from a good family. Shiva asks Anzal if he talked to Gautam. Anzal says that he couldn't talk today so he will try the next day. Here Suman says that it's wrong if Raavi wants to stay with Prafulla for few days and wants to keep the money for herself. Dhara says that they also want the same, but she doesn't that Raavi will keep that money. There Rakhi says to Anzal that Shruti is being after his arrival, she likes him, so they should get them married. Anzal asks what if he is already married. Rakhi says that she asked him his name, his name is Shiva. She says that he shouldn't be married else he would have asked to call his wife instead his brother. She says to get shruti married to Shiva and send them away. Shiva hears this and gets worried.
Dhara phones Prafulla and learns that Raavi isn't with her. Dhara doesn't tell Prafulla about Raavi's missing and says her to often visit Raavi. However Prafulla gets suspicious and thinks that Pandyas kidnapped Raavi for money. Here family worries about Raavi. Gautam and Dev get ready to go and find Raavi. Gautam stops on receiving notification from the bank that 10 lakhs has been credited. Dev and Rishita read the message. Suman and Dhara ask what happened. Rishita says that they were right Raavi didn't go taking the money, she deposited the money Gautam's account.
The episode ends.
Precap: Raavi says to Dhara that Shiva is alive. Other side Shiva is getting forced to marry Shruti.
Click to read