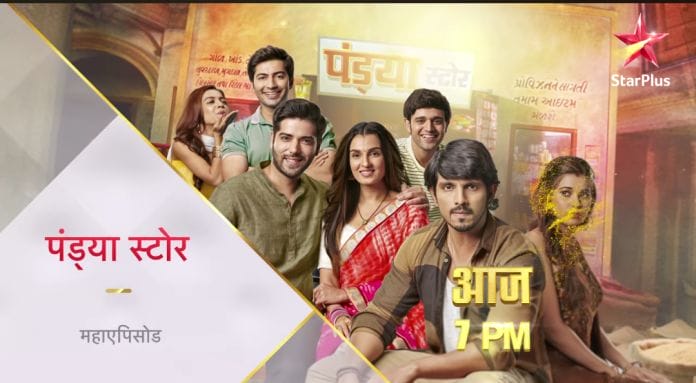 Pandya Store 20th November 2022 Written Update on TellyExpress.com
The episode starts with Gautam loudly asking Dhara and Raavi where they will go. Dhara says that she will go to Hardik's house and will take Raavi along with her. Dhara refuses to send Raavi to her aunt's house in this condition as her aunt will taunt Raavi. Gautam refuses to let Dhara go to her parents' house taking her luggage. He says that he trusts Dhara and Raavi. Hearing this, Suman taunts Gautam. The latter suggests Dhara and Raavi staying in his friend's house. Raavi refuses. She says that she's an earning woman, they can a house for rent.
Suman taunts Raavi. She says that Raavi and Dhara want to show to everyone that she's oppressing her daughter-in-law. Gautam says that it's not easy to find a house for rent easily. He tries to convince Raavi to stay in his friends' house. Raavi says that she has self-respect. She says that she decided to leave the house and hereafter she will decide on her own and move on on her own. Gautam says that he knows that Raavi is responsible, but he is worried about her. Dhara says to Gautam doesn't need to be worried. They have believe on themselves and truth doesn't need anyone's support.
Gautam asks them to stay at home and gives the rent till they find a house for rent. Raavi refuses. Raavi is determined to stay in the same street and same neighborhood by taking a house for rent and live with their heads held high. Gautam says to Raavi that the house he is talking about is in the end of the street and asks her to go there and give rent if she wants. Raavi hugs Gautam thanking him. Suman taunts Gautam for supporting Raavi and Dhara instead of his brother. Suman asks Krish to bag Gautam's bag and gives it to him, so that he can also leave the house with them. Krish says that Gautam is doing right. Suman scolds Krish and asks to see Shiva's condition.
Dhara gives Chiku to Gautam and goes inside. Dhara goes to Shiva and asks what type of human he is. She says that his wife had an operation, but he didn't even once cared about her and asks how she's instead he hurt her. Dhara says that she's ashamed to raise Shiva. Shiva says that he is ashamed to have given Dhara his mother's status. Krish shouts asking Shiva to shut up. Shiva shouts at Krish warning him not to interfere in his matter. He shouts that he doesn't have any more feelings for Raavi, not even feeling of hatred. Shweta receives Nithin's message that Rishita is enquiring about Raavi's report in the hospital. Shweta grows anxious and curses Rishita.
Dhara says to Shiva that she will never forgive Shiva for what she did. Suman says that she will also never forgive Dhara's mistake. Dhara walks out of the house crying and remembering Shiva's hurtful words. Dhara receives Rishita's house. Rishita asks Dhara to say the features of the doctor who did Raavi's operation. Dhara says that there's no use of it now as they're leaving the house. Rishita asks Dhara and Raavi not to leave the house till she returns. Dhara asks Rishita to return home.
Rishita refuses to let Raavi leave the house for the mistake she hasn't committed. She says that no one isn't able to recognize doctor's sigh in the hospital. She says that something is fishy. Dhara says that there were two doctors one senior, one junior. Junior doctor said that Raavi pregnant and the senior said that Raavi had a fibroid after checking her. She says that they met the senior doctor in the ultrasound test room.
Rishita argues with the nurse at the reception asking to show the CCTV footage of the hospital. The nurse refuses as it's highly confidential. Rishita creates a scene there. The nurse asks the ward boy to take Rishita out. Rishita says that she will go by herself. Nithin is watching this hiding. Shweta arrives to the hospital. Rishita fails to see Shweta. Nithin is scared of losing his job. Shweta reassures him and asks Nitin to be alert. She advises him to go on leave for a while. He agrees. Meanwhile, Rishita pushes the ward boy who takes her out and runs inside the clothes changing room. The ward boy goes inside that room to catch Rishita. The latter hits that ward boy. He Raavi takes the clothes of a ward boy and wears it.
There, Dhara and Raavi leave in an auto while Yaadon ki Baaraat sad version plays in the BG. Here, Rishita goes to the CCTV footage room. She lies to the person who is in charge of CCTV footage that doctor asked for the CCTV footage and asks him to view the footage of the date Raavi got admitted to the hospital He obliges. Rishita sees in the CCTV footage.
The episode ends.
Precap: Dhara sees the photo of Nithin with Shweta in the album and asks Shweta's mom who he is. Shweta's mom says that he is Nithin, Shweta's old friend. Dhara is shocked to learn this. Rishita says to Raavi that doctor Nithin with whom she talked was scared. Dhara says that he lied to them that Raavi is pregnant. Dhara adds that he is Shweta's old friend. Dhara says that Shweta trapped them till now, but hereafter they will trap her.
Click to read